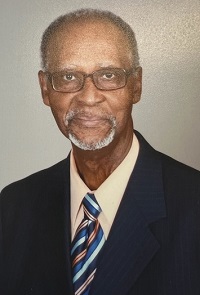 Harold Gillon Sr., 84, of Statesville, N.C., was born in Iredell County on February 10, 1939. He was the son of the late James Marchal Gillon and Myrtle McMullen Gillon. He departed this life on Thursday, June 2, 2022, at Iredell Memorial Hospital in Statesville.
Harold was a graduate of Unity High School and served with the United States Army and was honorably discharged. He was employed by Clark Schwebel Inc., from where he retired after 40 years of service. He was a dedicated member of Highland Acres Church of Christ, formerly Belmont Church of Christ. He was an active member of the church, serving for many years as a Deacon and the Church's treasurer. Harold enjoyed traveling and spending time with his family, playing golf and sitting in his pick-up truck for hours enjoying the sunlight.
In addition to his parents, he was preceded in death by a brother, Franklin McMullen; two sisters, Claudine G. Davidson and Joyce Gillon; two brothers-in-law, Johnny Moton and Andrew Reid; and two sisters-in-law, Mary Ann "Chi" M. Torrence and Peggy Moton.
Harold was united in marriage to Mae Lois Moten Gillon on June 17, 1962. He was a dedicated husband and father. They were blessed with 59 years together and to this union they were blessed with six children.
He leaves to cherish and remember the blessing of his life his wife, Mae Lois Gillon of the home; their children, Priscilla (Shelton) Dalton of Troutman, N.C., Deborah Lynne Gillon of Statesville, N.C., Veronia Gillon Sides of Winston-Salem, N.C., Paula (Bradley) Pearson of Mooresville, N.C., Anita Gillion Smith of Statesville, N.C., and Harold Gillon Jr. of Statesville, N.C.; a sister, Mary McMullen Morrison of Owings Mills, Md.; brothers-in-law and sisters-in-law; James A. "Chris" Moton of Charlotte, Henry "Ben" Moten of Statesville, and Shirley M. Imes, Daisy (Ervin) Keaton, Dorothy Reid, and Mary Frances (Jimmy) Jones, all of Statesville; seven grandchildren, Vickie Moten, Kesha Moten, Tyree Gillon, Alisha Gillon, Haroldene White, Christian Sides and Joshua Gaither; five great grandchildren, Devon Moten, Paris Gillon, London Gillon, Ahlania Sides, and Chase Sides; and a host of nieces, nephews, cousins, church family, other relatives and dear friends.
Celebration of Life Services will be conducted Monday, June 6, 2022, at 2 p.m. at Highland Acres Church of Chris. Al Simmons will officiate and burial will follow in the Belmont Cemetery with Military Rites. Mr. Gillon will remain at Rutledge and Bigham Funeral Home until taken to the church to lie in state at 12:30 p.m. Members of the family will receive friends at the church from 1 until 2 p.m., one hour prior to the service.
Rutledge and Bigham Funeral Home is serving the family.