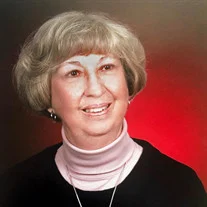 Hazel Guy Waugh, 97, of North Kelly Street, Statesville, N.C., passed away on October 6, 2022, with her devoted sons at her side. Born September 8, 1925, in the Scotts community of Iredell County, she was the daughter of the late Thomas Hooper Guy and Cora Harris Guy.
Evidence of a life well-lived, Hazel enjoyed spending time with and caring for her family and friends, laughing, telling stories, church activities, traveling, cooking and baking, decorating, shopping, giving gifts, sending cards, and gardening.
A devoted wife, mother, and grandmother, Hazel graduated from Scotts High School in 1942 and married Lester "Sox" Waugh on January 29, 1944, just before he left for World War II. They were married for 38 years and raised two dear sons, Kent and Wesley, who lovingly cared for Hazel during her last two years of life. Earning an Associate's Degree in 1967, Hazel enjoyed a long career at the Mitchell Community College library, made many lifelong friends there, and was featured as one of the Women of Mitchell in 2020. Hazel was a Davis Regional Medical Center volunteer and a member of Rose Chapel Methodist Church, where she started the first church library, was a choir member and church secretary for several years.
Hazel inspired so many through her own life story and personal courage. Her message to her sons and grandchildren was "to work hard, take some risks, and do whatever it takes to become the best version of yourself." She was a lifelong advocate for education, and took great pride in her lengthy career at Mitchell College Library.
In addition to her parents, Hazel was preceded in death by her husband "Sox", her infant daughter, Elizabeth Ann, her older sisters, Audrey Baker, Retha Johnson, and Ophelia Guy, and many dear friends and relatives.
Hazel is survived by her sons, Kent Waugh and wife Anita of Statesville, and Wesley Waugh and wife Lynne of Boone. She cherished her role as "Granny" to her grandchildren who also survive, Christian Waugh and partner Lizzi Merrill of New Jersey, Sarah Ann Christian and husband Daniel of Huntersville, Benjamin Waugh of Washington, D.C.; John Wesley Waugh and fiancee Kayla Wright of Raleigh, and Andie Waugh and Gigi Waugh of Boone. Hazel is also survived by her great grandson, Jackson Christian of Huntersville, one of the greatest blessings during her last year of life. Hazel is also survived by dear friends Faron Young, Ruth Stikeleather, Beth Rogers, Margaret Rumple McNeely and her dear nieces and nephews.
A celebration of life and interment service will be conducted later this year on a date to be announced at Rose Chapel Methodist Church, Statesville, officiated by Reverend Gary Camp.
Memorial donations can be made to Rose Chapel Methodist Church, 813 Turnersburg Highway, Statesville, NC 28625, Hospice of Iredell County, 2347 Simonton Road, Statesville, NC 28625, St. Jude Children's Hospital, 501 St. Jude Place, Memphis, TN 38105, and Mitchell Community College, Advancement Office, 500 W. Broad Street, Statesville, NC 28677.
Hazel's family is very thankful for the many friends and relatives who have visited, called, and cared for her, as well as Hazel's special caregiver, Kokita Corry, and the nursing staff at Hospice of Iredell County who assisted and supported Hazel and her sons.
Nicholson Funeral Home is serving the Waugh family. Online condolences may be shared at www.nicholsonfunerals.com.