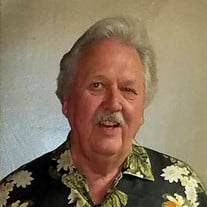 Howard Anton Barraclough, 74, died on Sunday, May 1, 2022, at the S. Mitchell Mack Hospice House in Mooresville, N.C. He would have you know that he died, he wasn't lost and didn't take life as pass/fail. Metastatic melanoma, complicated by a recent illness, ended his life. Howard definitely lived life in his own way and loved his family above all.
He was born on November 7, 1947, in Brighouse, England, to the late Leslie and Helen Dyson Barraclough.
Howard emigrated to the United States and was soon after drafted, serving in the U.S. Army. Howard started professional and family life in the Philadelphia area. A born salesman, Howard had a successful career working and selling mainly in the banking industry.
While he would humbly regard himself as "always on the road," his true strength and passion in his life was his family. He is survived by his wife of 41 years, Angela Hinson Barraclough; children, Andrew Barraclough and wife Jennifer, and Megan Topczewski and husband Michael; granddaughters, Hanna Rose, Abigail Grace, and Ava Josephine; and his beloved German shepherd, Buddy. He may have been most proud of Buddy, followed closely by his granddaughters. Howard always thought his kids were quite jealous of Buddy.
A Memorial service will be held at 6 p.m. on Friday, May 6, at Cavin-Cook Funeral Home Chapel with Rev. Dr. Courtney Greene officiating. The family will receive friends following the service.
Memorials may be made to Hospice & Palliative Care of Iredell County, 2347 Simonton Road, Statesville, NC 28625.
Cavin-Cook Funeral Home & Crematory, Mooresville, is serving the Barraclough family. Condolences may be made to the family at www.cavin-cook.com.