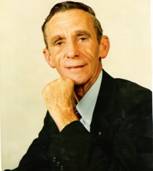 J. D. Benfield, 91, of Statesville, N.C., passed away on Sunday, January 30, 2022, at Autumn Care of Statesville.
J. D. was born on November 23, 1930, in Iredell County, N.C., and was the son of the late Myrtle Benfield Miller. He attended Sharon School and Statesville Business School and then served in the U.S. Air Force. He later retired from the Air National Guard as a Master Sgt. In 1952 he was married to Sue Cook Benfield, who passed away in 2012. For several years he worked at Hunt Manufacturing and later became a radio personality on WFMX and later with WAME.
J. D. was associated with the Iredell County Sheriff's Department and was appointed Sheriff in 1986 following the death of Sheriff Leroy Reavis. Following that, he worked for the Department of Transportation before retiring. He was a member at New Bethany Baptist Church and a member and supporter of the Statesville Shrine Club and West Iredell Ruritan Club for several years. J. D. enjoyed gardening in the summer and going fishing when he could.
In addition to his mother and wife, he was preceded in death by his son, Thomas Allen Benfield, in 2004; and a brother, Bob Miller.
Surviving is a daughter, Donna Benfield Maness (Steve) of Statesville; and a sister, Mona B. Eller (Jim), of Statesville; five grandchildren; seven great grandchildren; and four great great grandchildren. Several nieces and nephews also survive.
A service to celebrate J. D.'s life will be conducted at 2 p.m. on Thursday, February 3, at Troutman Funeral Home with Rev. Bill Mason officiating. The family will visit with friends from 1 until 2 p.m. prior to the service. Burial with military honors will follow at Iredell Memorial Gardens Cemetery.
Memorials may be made to New Bethany Baptist Church, 106 Eufola Road, Statesville, NC 28677; or Hospice and Palliative Care of Iredell County, 2341 Simonton Road, Statesville, NC 28625.
Online condolences may be made to the family at www.troutmanfuneralhome.com.
Troutman Funeral Home is serving the family.