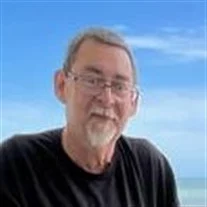 Jack Edward Haligus, 65, passed away at Iredell Memorial Hospital in Statesville, N.C., on September 8, 2022.
Mr. Haligus was born on September 9, 1956, at Walter Reed Hospital in Washington, D.C. Jack worked in auto repair and manufacturing until retirement. In his spare time, he loved riding his Harley Davidson motorcycle, making trips to the beach, and spending time at the lake house in Michigan with his family. Jack was known for his uplifting, humorous personality. He always found a way to make people smile and laugh. Jack was always willing to help a friend in need.
Jack was preceded in death by his father, John Antrup; and his ex-wife, Lorena Williams.
Jack is survived by his fiancée, Helen (Nellie) Bacon; his mother, Arlene Antrup; and his fur baby and devoted companion Sarah Jane. He also leaves behind three children, ten grandchildren, and two great grandchildren. His proudest accomplishment is his family. His children are: daughter Amy Haligus (Jason Benfield) of Statesville, N.C., daughter, Cassie VanBelzen (Bud) of Holton, Mich., and son John Haligus (Cassandra Stacy) of Statesville, N.C. His grandchildren are: Adrian Haligus, Audriana Goram, Anthony Haligus, Keegan Benfield, Kandon Benfield, Madison Bartlett, Adrian VanBelzen, Kimala Neal, Kato Perry, and Ember Perry. His great-grandchildren are: Brody Jack Bartlett and Noah Rhyley Benfield. Jack also leaves behind his closest friend, Lance Fullerton from Florida.
A funeral service will be held Tuesday, September 13, 2022, at 11 a.m. at Nicholson Funeral Home Chapel. Friends and family may visit with the family from 10 a.m. until the service starts.
In lieu of flowers, donations to offset the cost of the services may be sent to GoFundMe for Jack Haligus at https://gofund.me/739243cc
Condolences may be made online to the family at www.nicholsonfunerals.com.
Nicholson Funeral Home is serving the family.