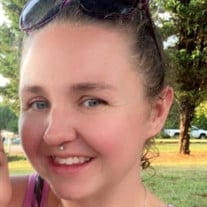 Jacquelin Danielle Ferrell York, 36, passed away on Tuesday, September 27, 2022.
Danielle was born to Wesley Ferrell and Teresa Williams on January 6,1986 in Ocala, Fla. She moved to Statesville with her family as a child and attended West Iredell High School. Danielle spent most of her time doing what she loved — spending time with her two children and her granddaughter. She was a fun, free-spirited woman who loved her family and her six fur babies. Anyone who knew Danielle had a friend in her. She was a wonderful mother and nana; if she loved you, you could count on her. She was saved and accepted God into her life on May 4, 2019.
She was preceded in death by Russell Ferrell, Annette Ferrell-Bass, William Ferrell, Maggie York, and Ronda Berry.
Danielle is survived one daughter; Hallie York of Hickory; one son; DJ York of Conover; one granddaughter, Anahlia Wallace of Hickory; her mother, Teresa Williams of West Virginia; her father, Wesley Ferrell of Claremont, N.C.; one brother, Joey Ferrell of Troutman; two nieces, one nephew,
two of her grandmothers; and several aunts, uncles, and cousins.
Memorial services will be held Wednesday, October 5, 2022, at 12 noon in the Nicholson Funeral Home Chapel with her pastor, Brother Danny Castle, officiating. The family will visit with friends Wednesday from 11 a.m. to 12 noon before the service. Burial will follow at Iredell Memorial Gardens.
Nicholson Funeral Home is serving the family.