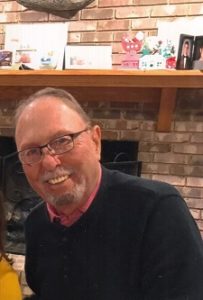 James Randall McCurry, 74, of Newton, N.C., passed away on September 8, 2022, after a period of declining health.
Randall was born on March 17, 1948, the son of the late Loy and Louise McCurry. He was married to his wife Bonnie for one month shy of 50 years. He was a graduate of Western Carolina University and went on to become a sales manager for Lance snack foods and a vendor in the millwork area in several Lowe's stores.
He was an avid golfer and loved being outside in the sunshine, on the golf course, or chatting with his golf buddies. He loved baseball and basketball and had a special love of the Braves and the Tar Heels.
Randall lived life well. He rode motorcycles, was an avid sports enthusiast, lived abroad in Italy while he served in the U.S. Army, and traveled throughout the United States. Many of his days and evenings were spent on the baseball field behind home plate or on the field as an umpire. He was an umpire for college and minor league baseball, and he loved every second of the action. When he was not on the field, you could find him training other umpire candidates or on the golf course. Later, after he retired, he worked part-time and enjoyed being around other golfers at Catawba Valley Country Club.
Randall had an abounding love for his children and his grandchildren. One of his favorite things to do was to spend time talking and playing with his granddaughters. He will be greatly missed.
Those left to cherish Randall's memory include his wife Bonnie; his son Aaron McCurry (Hannah); his daughter Elizabeth M. Johnson (Seth); and three granddaughters, Eva McCurry, Sarah Johnson and Susanne Johnson; a sister, Deborah Parker; and several nieces and nephews.
A private family service for Randall is planned for Saturday, September 17, 2022, at 1 p.m. A gathering of friends and visitation will follow the family service from 2 to 4 p.m. The visitation will be at the Willis-Reynolds Funeral Home at 56 Northwest Boulevard, Newton, N.C.
Fond memories and expressions of sympathy may be shared at www.willisreynoldsfh.com for the McCurry family.
Willis-Reynolds Funeral Home is serving the family.