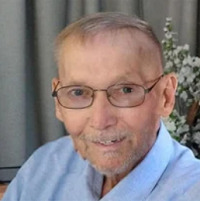 Jerry "Fuzzy" Mikle Campbell, 72, of Vaughn Mill Road, Statesville, N.C., departed this earth to join his heavenly father on May 29, 2022. He was born on January 24, 1950, in Iredell County, N.C., and was the son of late Nellie Moose Campbell and Boyd Garfield Campbell. Jerry is survived by his loving wife and soulmate of fifty-two years, Phyllis Barnhardt Campbell. Jerry and Phyllis symbolized what a family should be through their illustration of love for one another, and most importantly for putting God first. He was the closest example of Christ's unconditional love for us all.
Jerry was a loving husband, father, grandfather, brother, and friend. His passion and integrity to those he loved was unwavering. He is survived by his two daughters whom he adored wholeheartedly, Lisa Campbell Pullis (Lee) and Cherie Nichole Campbell; grandsons, Grayson Maynard and Zachary Pullis; granddaughters, Gracie Warren (Andrew) and Chesney Pullis; and brother Boyd Campbell Jr. (Becky). There are many surviving nieces, nephews, great nieces, and great nephews whom he treasured close to his heart.
Jerry graduated from North Iredell High School in 1968 and continued his education at Catawba Valley Technical Institute to study business. In 1971 he was drafted into the U.S. Army and proudly served in the Vietnam War. He received a new heart on July 1, 2010, from an anonymous donor, giving him the gift of life for an additional 12 years.
He was a member and chairman of Deacons of New Hope Baptist Church where he enjoyed the fellowship of his brothers and sisters in Christ. Jerry beared resemblance to the Bible verse 2 Timothy 4:7 "I have fought a good fight, I have finished my course, I have kept the faith." He was not only an honorable man, but a humble man who found satisfaction in doing good deeds for others. Jerry was a loyal friend to many and will be deeply missed. His hobbies included golfing, hunting, gunsmithing, fishing, restoring his 1968 Chevrolet Camaro, and most of all telling jokes and playing pranks. He leaves a hole in the hearts of his family and friends who were always entertained by his stories and sense of humor. His infectious smile and laugh will live on forever.
Arrangements are incomplete at this time.
Memorials in Jerry's memory may be sent to New Hope Baptist Church Scholarship Fund, 149 New Hope Road, Statesville, NC 28625; Iredell County Partnership for Young Children, 734 Salisbury Road, Statesville, NC 28677; or Hospice & Palliative Care of Iredell County, 2347 Simonton Road, Statesville, NC 28625.
Nicholson Funeral Home has the honor of serving the family.