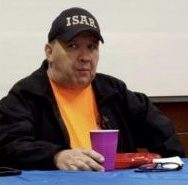 Jerry Todd Sipes, 57, of Statesville, N.C., passed away Friday, May 27, 2022.
Todd was born December 30, 1964, in Iredell County and is the son of Jerry Austin Sipes and Nancy Bost Sipes. He was a 1983 graduate of West Iredell High School and previously worked for Laws Stained Glass Studios. His passion was helping others in the community with being associated with the Iredell Search and Rescue for over 20 years. You could count on Todd day or night and be at every call. He also enjoyed being apart of the Civil War Re-enactments.
In addition to his parents, Todd is survived by one sister, Penny Sipes Wike (Scottie) of Harmony; one niece, Sierra Wike Bolick (Jonathan) of Bethlehem; one great niece, Lillian Ruth Bolick; and one nephew, Andrew Scott Wike (Brandee) of Myrtle Beach, S.C.
A funeral service will be held at 2 p.m. on Wednesday, June 1, 2022, at Charity Bible Church in Hamptonville, N.C., with Rev. Brian Sipes, Pastor Robbie Sipes and Dr. Rev. Jesse Stroud officiating. The family will visit with friends from 1 to 2 p.m. Burial will follow in the church cemetery.
In lieu of flowers, memorials may be made to Iredell Search & Rescue, P.O. Box 781, Statesville, NC 28625.
Troutman Funeral Home is serving the family of Todd Sipes.