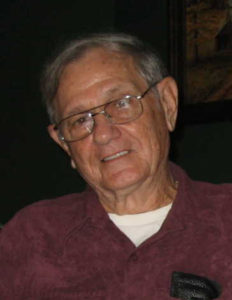 Jimmy "Jim" Waters Gibson, 88, of Statesville, N.C., passed away on Sunday, May 22, 2022, at Gordon Hospice House.
He was born on May 14, 1934, to the late Benjamin W. Gibson and Launa B. Gibson. Jim worked at Hoechst Celanese of Salisbury, N.C., for thirty-five years as foreman in Industrial Engineering. He loved his work and was a busy man doing things around the house all the time. He loved gardening and gave vegetables to everyone around. Jim served in the U.S. Army and served from 1952 to 1954 in the Military Infantry Troop C. He loved his church, Bethlehem United Methodist Church, and held many office jobs, including President of Methodist Men and Treasurer for twelve years. He found great delight in the men's club. Jim was a member of the Statesville West Iredell Ruritan Club.
In addition to his parents, Jim was preceded in death by two daughters, Carolyn Diane Gibson and DeNeale Karen Gibson Plowman; and sisters, Billie Katherine Buchanan and Nancy Owens. In Decmber 1954, Jim married Phyllis Lippard Gibson, who survives. Also surviving are his daughter, Gina Gibson Clanton (Todd); grandchildren, Jonathan Stone, Jared Stone (Meredith Ann), Tessa Clanton and April P. Swyers (Patrick); great grandchildren, Chayse Swyers; and siblings, Joe Gibson, Paul Gibson (Kathy) and Patsy Gibson Snow (Tom).
A memorial service will be held 3 p.m. on Sunday, May 29, 2022, at Bethlehem United Methodist Church with Rev. Olin Isenhour and Rev. Michael Flack officiating. The family will visit with friends one hour prior to the service, from 2 to 3 p.m. Burial will follow in the church cemetery with full military honors.
Troutman Funeral Home is serving the family.