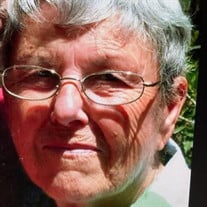 Joanne Bias Gilmore Samuels, 89, passed away on August 3, 2022, at Carolina Gardens at Rock Hill Assisted Living Facility in Rock Hill, S.C.
She was born in Huntington, W.Va., on December 5, 1932, to Paul Everett and Marie Blankenship Bias.
Her two younger brothers, William Charles Bias and Davis Lee Bias, preceded her in death.
Jodie married Thomas James "Jim" Gilmore on June 14, 1952. They moved their family to Barium Springs Home for Children in North Carolina in 1966 after Jim accepted a position as Director of Youth Activities, which he held until his death in 1982. She was later married to Terry Samuels, who died in 2011, and whose children, Cynthia and Andrew, survive him.
Jodie was a member of Forest Hills Presbyterian Church in Statesville, N.C. She loved painting, writing, gardening and Bible study. She was an avid genealogist, meticulously researching family roots back several centuries. She was quick to laugh, especially at herself, and loved nothing more than hugs and time with her family.
She is survived by her four children, Sharon (Michael) Laudel of Grass Valley, Calif., Thomas Gilmore of Columbia, S.C., Steven Gilmore of Cornelius, N.C., and Randy (Hilary) Gilmire of Ligonier, Pa.; ten grandchildren and five great grandchildren.
Contributions in Joanne's memory can be made to charity of the donor's choice.
Nicholson Funeral Home is serving the family.