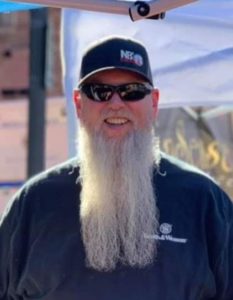 John David LeFaivre, 51, went to be with his wife and Lord and Savior on Saturday, April 9, 2022. He passed away peacefully at home surrounded by his family.
He was born August 31, 1970, in Anchorage, Alaska, the son of Sheila Morrow and the late Michael LeFaivre. He was preceded in death by his loving wife, Dawn LeFaivre, whom he married on August 29, 1998; and an aunt, Randa Mason.
Those left to cherish his memory are a son, B. Wayne Slaughter (Samantha); two grandchildren, Ashlyn and Addison Slaughter; and two sisters, Stephanie LeFaivre and Jennifer Morrow. Also surviving are uncles, Ken Shawver (Pat) and Barry Mason, along with numerous nieces, nephews and cousins.
John was employed by C.R. Onsrud Inc. as a supervisor. He loved spending time with his two granddaughters. John was an avid hunter and fisherman. He enjoyed being outdoors and loved the mountains. He always had a smile on his face and was considered a gentle giant — unless you messed with his family.
A celebration of life will be conducted Friday, April 15, at 11:30 a.m. at Troutman Funeral Home Chapel with Rev. Michael Pharr officiating. Burial will follow at Iredell Memorial Gardens. Family will receive friends on Thursday, April 14, from 6 to 8 p.m. at Troutman Funeral Home.
Active pallbearers are Timmy Call, Justin Call, William Call, Jonathan Glass, John Black and Dale Ladd. In lieu of flowers, memorials may be made to The National Rifle Association of American (NRA), 111250 Waples Mill Road, Fairfax, VA 22030.
Troutman Funeral Home is serving the family.