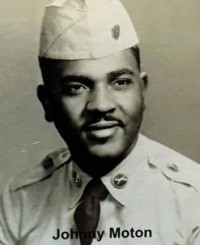 Mr. Johnny Louis Moton, 87, of Statesville, N.C., was born in Iredell County on April 12, 1934, and was the son of the late Thomas Moton and Louise Rankin Moton. He departed this life on Friday, January 21, 2022, at the Gordon Hospice House in Statesville, N.C.
He was a high school graduate and served with the U.S. Army and was honorably discharged. He was employed by Southern Screw and Belk Department Store with over twenty-five years of service. He was a loving husband and was united in marriage to Beatrice Parker Moton for over sixty-eight years. He served faithfully as a member of Logan Presbyterian Church, where he sang with the choir and was a deacon. His hobbies included cleaning and detailing cars, yard work, eating cookies and spending time with his family. One of his favorite sayings was, "It's Alright".
In addition to his parents, he was preceded in death by a son, Jerry Lewis Moton Sr.; a sister, Mary Ann "Chi" M. Torrence; sister-in-law, Peggy Moton, Berdine Patterson, Betty Lou Parker "Kurt" Lawrence, and Roy Parker; nieces and nephews, Betty Jean Tillman, Troy Parker Jr., Betty Ann Parker, Pete Morrison and David Lawrence and Robert Lawrence.
He leaves to cherish and remember the blessing of his life his wife, Beatrice Parker Moton of the home; his grandchildren, Sandra Nicole Moton of Raleigh, Crystal Brooke Moton and Jerry Lewis "Jay" Moton Jr., both of Statesville; his great grandchildren, Lilliana Nicole Moton, Kayleigh Marie Moton, and Leo Luis Hernandez; his siblings, James A. Moton of Charlotte and Henry "Ben" Moten of Statesville; five sisters, Mae Lois (Harold) Gillion, Shirley M. Imes, Daisy (Ervin) Keaton, Dorothy (Andrew) Reid, and Mary Frances (Jimmy) Jones, all of Statesville; brother-in-law and sister-in-law, John Parker and Mary Frances Jackson, both of Sacremento, Calif.; his nieces and nephews, James David (Enrika) Moton of Statesville, Nelda (Leon) Tatum of Charlotte, Deborah Gillion, Priscilla (Shelton) Dalton, Veronica Gillion, Paula (Petie) Pearson, Nita Gillion, and Harold Gillion Jr., all of Statesville, Mary Love (Damon) Valentine and Ervin (Robbie) Keaton Jr. of Durham, Jeffery Keaton of Charlotte, Darryl (Brenda) Keaton of Huntersville, Al Reid, Donald (Laura) Reid, Angela (Larry) Morrison, Glenda Faye Jones, and Tonya Moten, all of Statesville, Atiba (Cherrish) Torrence of Charlotte and Ayana Torrence of Greensboro; Margaret (JD) Wellman, Leon (Marybelle) Parker, Freddie (Leslie) Morrison, Gene (Gwen) Lawrence, Nancy Walls, Keith (Jennifer) Lawrence and Gloria Parker, all of Statesville, Katherine Parker of Queens, N.Y., Ann (Brent) Peele of Columbia, S.C., Tim Parker, Ron Parker Sr., Johnny Ray Parker, Chris Parker, Tony Parker, Angelo Parker, Tonette Parker, Charlene Parker, Christine Parker, all of Salisbury, N.C.; and a host of great nephews, great nieces, cousins, other relatives, the Logan Church Family and friends.
Celebration of Life Services will be conducted Wednesday, January 26, 2022, at 2 p.m. at Logan Presbyterian Church in Scotts. Reverend Kaye Barrow-Ziglar will officiate, and burial will follow in the Logan Presbyterian Church Cemetery. Mr. Moton will remain at Rutledge and Bigham Funeral Home until taken to the church to lie in state at 1 p.m. Members of the family will receive friends at the church from 1:30 until 2 p.m., but will assemble at the residence at other times.
Visit the Book of Memories for Mr. Moton at www.rutledgeandbigham.com.
Rutledge & Bigham Funeral Home is serving the Moton Family.