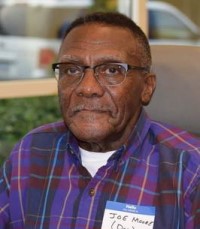 Mr. Joseph Moore Jr., 92, son of the late Joseph Moore Sr. and Inez Scott Moore, was born in Iredell County on November 30, 1929. He departed this life on Monday, January 31, 2022.
"Doc," as he was called by all who knew and loved him, was educated in the Iredell County Schools, and he made his career as a carpenter in the furniture industry for many years and wood working was his favorite hobby. He served in the United States Army during the Korean War, and he was honorably discharged and was a faithful member of St. Paul United Methodist Church, where he served in various capacities, which included, Lay Leader, Sunday School Superintend, Trustee Chair, Finance Chair, Sunday School teacher, and member of Lakewood Male Choir.
He was married to Gertrude Lawrence Moore, who preceded him in death. He was also preceded in death by his brothers, LM Moore, Billy Don Moore, and Lefty Gomez Moore; and sisters, Lizzie Mae Byers and Joanne Moore.
He leaves to cherish the memory of his life six sons, Christopher (Malinda) Moore of Statesville, Michael (Sandra) Moore, Anthony (Valerie) Moore, and James L. Moore, all of Troutman, and Stanley T. Moore and Scotty (Kaycee) Moore, both of Mooresville; a daughter, Patricia Moore of Troutman; a brother, Benny Ray Moore of Troutman; his grandchildren, Crystal Robinson, Steven Dawkins, Travis (Shantel) Scott, Travis Robinson, Jeannette Monroe, DaLisa Moore, Porcia (Jeffery) Easterling, Mikeyla Moore, Quentin Vanderburg, LaQuitta Vanderburg, Ahsjah E'xume, Jessica Moore and Lacy Graham; his great grandchildren, SaNyaa Moore, Bryan Grayson, Margret Marshall, Zoey Scott, Isis Scott, Shakira Robinson, Amaya Alexander, Alana Griffin, Lexi Easterling, Detravion Kelly, Demi Kelly-Vanderburg, Kaniyla Hill, Jerrin Moore and Justice Moore; sisters-in-law and brothers-in-law, Louise and Hubert Bellamy, Elizabeth and Pecoliar Williams, Mary Elizabeth Moore, Mary Phifer Moore and Louise Lawrence; and a host of nieces, nephews, cousins, other relatives and friends, including special friends, Franklin Rucker, who thought of him as a father, and special neighbors, Keith and Donna Ayers and Charles and Donna Young.
Visitation is scheduled for Thursday, February 10, 2022, from 12 noon to 1 p.m. at Rutledge and Bigham Mortuary, 603 South Center Street, Statesville, N.C., followed by a service at 1 p.m.
Rutledge and Bigham Funeral Home is serving the family.