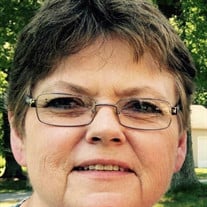 Judy Ann Lewis Gambrell, 66, passed away on Friday, November 25, 2022. Born on January 21, 1956, in Davidson County, Tenn., she was the daughter of the late Elvin C. Lewis Jr. and Mary Christine Duncan Lewis.
Judy was a 1974 graduate of White House High School. She was a long-time employee of the Iredell-Statesville School System in the Child Nutrition Department until she retired. She then took a part-time position with Mooresville High School in Child Nutrition.
Her children and grandchildren just know she is up there with her late husband George, sitting at the kitchen table, drinking coffee, smoking cigarettes and watching the news!
In addition to her parents, Elvin C. Lewis Jr. and Mary Christine Duncan Lewis, she was preceded in death by her husband of 37 years, George H. Gambrell; her brother, Eddie Lewis Sr.; and her son-in-law, Eric A. Josey.
Those left to cherish her memory include her son, Kevin J. Gambrell of Iredell County; daughter, Lisa G. Josey of Iredell County; daughter, Kimberly G. Gambrell of the home; grandson, Derek K. Gambrell of Iredell County; grandson, Shane A. Josey (Hannah) of Iredell County; great granddaughter, Isabelle Josey; sisters, Jane Pewitt (Frank) of Goodlettsville, Tenn.; sister, Linda Stone (Ernie) of Cottonwood, Tenn.; brother, Aaron Lewis of Franklin, Ky.; brother, Robert Lewis (Bobbie) of Lafayette, Tenn.; and more nieces and nephews and great nieces and nephews than she could count but she loved each and every single one of them with all her heart.
A private memorial service in her memory will be held at a later date.
Nicholson Funeral Home has the honor of serving the family.