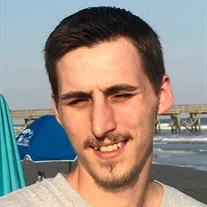 Justin Dewayne Goodman, 29, of Mocksville, N.C., and formerly of Troutman, N.C., went to be with the Lord on Sunday, June 26, 2022. He was born October 12, 1992, in Statesville, N.C., and spent his formative years in Iredell County, and in his family's home in West Virginia.
He was preceded in death by his loving fiancée, Savannah Anglin of Mocksville, N.C.; grandparents, Ellen Birchfield and Johnny Birchfield, and Shirley Goodman and Herbert Goodman; his uncle, Billy Blevins; his uncle, Ray McCoy; and his aunt, Tammy Goodman.
Always full of love and affection for those around him, Justin treasured time with his family and loved ones. He enjoyed riding motorcycles, playing with dogs, and playing with his children, nieces and nephews. If the mood was right, he would show off his smooth dance moves. He supported his family with long hours in the restaurant industry and later as a skilled technician at a number of manufacturing and commercial enterprises. As an employee, he was known as a fast learner and a skilled, hard worker.
Justin's memory will be cherished by his survivors, his mother, Peggy Lester, and her husband Eddie Lester of Statesville, N.C.; his father, Charles Goodman of Mocksville, N.C.; his stepbrother, Justin Allison of Statesville, N.C.; his sons Zane and Kade of Mocksville, N.C.; his sister, Misty Goodman, and her fiancé Stevie Freeman Jr. of Mocksville, N.C., and their family consisting of Nathaniel Goodman, Kahlil Freeman, Serenity Freeman, and Malachi Freeman; his sister, Brandi Powell and husband Daniel Powell of Big Sandy, W.Va., and their children Jayden, Damian, Payton, Adalyn and Xander; aunt Lisa McCoy and her daughter Kayla McCoy of Stony Point, N.C.; uncle Johnny Birchfield of Charleston, S.C.; cousins Chad Reynolds, Dustin Reynolds and Gavin Blevins of McDowell County, W.Va.
The family will receive visitors at Cavin-Cook Funeral Home in Mooresville, N.C., between 1 and 2 p.m. on Friday, July 1, 2022, and the funeral will be held from 2 to 3 p.m. Justin will be laid to rest in Oakwood Cemetery in Statesville, N.C. The family would like to extend their sincere appreciation to extended family and friends whose compassion and support during this difficult time has been unwavering.
In lieu of flowers, you can make donations to Cavin-Cook Funeral Home, P.O. Box 977, Mooresville, NC 28115 (704) 664-3363 to help with funeral expenses and the family has also set up a Go Fund Me account to help with funeral expenses. Visit https://www.facebook.com/donate/3319499468326975/
Cavin-Cook Funeral Home and Crematory, Mooresville is serving the family.