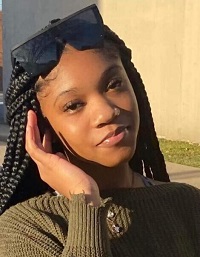 Kaneycha "Ney Ney" DeLaine Turner, 19, was taken from her mother and family on Wednesday, October 26, 2022. She was very excited about being an Aggie, but she is now safe in HIS arms.
Kaneycha! As we all who knew her, she was a quiet, friendly, always smiling spirit. She was a very humble person who just wanted to enjoy life. She used to be self-conscious until she hit the age where she could make changes she needed to make herself feel better. And once she did that you couldn't tell her nothing. (LOL) She got her first job at the age of 15. Even though she didn't like to work, she did what she needed to to have what she wanted. She was literally a RISING STAR! After 8th grade she entered AAU Basketball as an underdawg turned Rising Star! This helped open up that free spirit of hers! I loved watching my baby ball. She was a hustler on and off the court. At one point she was going to school, playing ball, and working 2 jobs: all while in High School. She danced with the DFC, dancing for Christ. Kaneycha was inducted into the National Beta Club in both Middle and High School and was nominated for the National Honors Society at NC A&T. Kaneycha excelled in all areas of life. I'm gonna miss my baby dearly. The early morning FaceTimes where we would just listen to each other breathe, her sneaking in the house on a random quick trip home, climbing in my bed. I'm gonna miss everything about my baby. – Mama
Kaneycha was a proud graduate from Statesville High School, Class of 2021. She was a sophomore at North Carolina A&T State University in Greensboro, N.C., majoring in Business Management. Kaneycha was employed at Home Goods in Greensboro and worked part time at KFC in Statesville when she was home on break.
Ney not only excelled in the classroom where she took honors courses. She also excelled on the courts. She started playing recreation basketball in elementary school, and then played for the East Iredell Knights in middle school. After middle school she started her AAU career as an Underdawg turned Rising Star! Then, as she entered high school, she became a Lady Greyhound! She earned the Greyhound Award for 2018 – 2019 and the 2020 – 2021 Best Rebounder Award! I loved her game! I bought a shirt that read, "Some people wait a lifetime to meet their favorite player. I raised mine!" She is the GOAT to me! It was my dream that she'd continue playing when she went to college, but she had other dreams and I stood by her on that! My baby made me soooo proud in her 19 years and I thank God for the honor of being her mother! I love you forever Ney Laine, and I'll ALWAYS be your #1 fan!
Left to cherish her precious memories are her mother, Latoya Rucker; father, Kenan Turner; paternal grandparents, Ivory and Doris Turner; maternal grandparents, William Myers and Phyllis Simpson; siblings Jh'Karei Manns, Quaderra Parks, Jayla Turner, Kenan Turner Jr., Marley Turner, and Jayceon Turner; godbrothers, Kenan and KeShaun Rucker, DeMarcus Maddox Jr., and Kylin Allison; uncles, Ivey Turner Jr. and Markus (Alemtsehay) Boyd; aunts, Maria Turner, Nicole Rucker, Shanita (Kevin) Peet, April Rucker, Tara Myers, Miracle Myers, and Latoya Reid-Harris; nephew, Tre'Von Brown Jr.; special cousins, A'Zariyah Myers and Nakia Cowan; best friend, Jasmyn Misher, special friends, Shania Bailey-Scott, Lera Chambers, Laura Sarmiento, and Natalia Keaton; special moms, Jackie Isaac and Latoyna Keaton; and a host of cousins, aunts, uncles, other relatives and friends.
A Funeral Service to honor the too short but well lived life of Ms. Kaneycha Turner will be held Saturday November 5, 2022, at the Statesville High School Auditorium (474 N Center Street, Statesville, NC 28677), at 1 p.m. Burial will immediately follow the services at Belmont Cemetery (2000 Greenbriar Road, Statesville, NC 28625). She will lie in state for viewing on Saturday from 11 a.m. until the start of the funeral. The funeral will be livestreamed on Avery's Memorial Chapel's Facebook page.
Visit her website at www.averymemorialchapel.com. Condolences may be sent to the Turner family c/o Avery Memorial Chapel, 542 Hendersonville Road, Asheville, NC 28803. Telephone: 1-828-417-7337
Local flowers may be delivered to Rutledge and Bigham Mortuary, 603 South Center Street, Statesville, NC 28677.
Rutledge and Bigham Funeral Home is serving the family.