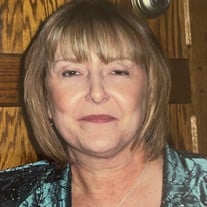 Kathy Douglas Swartz, 69, peacefully passed away on Thursday, May 5, 2022, surrounded by her loving family. She was born December 29, 1952, in Mooresville, N.C., daughter of Bill S. Douglas and the late Nancy "Hank" Douglas.
In addition to her mother, she was preceded in death by her sister, Terry Moore; and nephew, Cory Moore.
A social butterfly, Kathy never met a stranger. She relished time spent with her family and friends, shag dancing with her husband and friends in the Lake Norman Shag Club, and attending church her entire life at Fieldstone Presbyterian Church. Born and raised in Mooresville, she attended Central Piedmont Community College and worked as a nurse at Iredell Memorial Hospital in Statesville, N.C., for 27 years. She enjoyed cooking; morning coffee with her husband; going on cruises all around the world; vacationing and shag dancing in North Myrtle Beach, S.C. ; and listening to a variety of music such as beach music, Elvis Presley and Josh Turner.
Most important to her was her family, and she will forever be remembered as a loving and devoted wife, mother, grandmother, sister, aunt, and friend.
She leaves a lasting legacy to be cherished by her survivors, her husband of 27 years, Johnny Leon Swartz; daughter, Kelly Miller of Mooresville, N.C.; son, Matthew Miller and wife LeeAnn of Denver, N.C.; stepson Patrick Swartz and wife Shana of Augusta, Ga.; stepdaughter Casey Huber and husband Michael of Evans, Ga.; grandchildren, Hank Miller, Tyler Swartz, Kamron Sprouse, Lauren Huber, and Nicole Huber; brother, Billie Douglas and wife Becky of Chesapeake, Va.; and nieces, Tracy Landreth and husband Chris of Huntersville, N.C., and Lindsey Douglas of Chesapeake, Va; and a host of friends.
Visitation will be held at Cavin-Cook Funeral Home in Mooresville, N.C., on Monday, May 9, 2022, from 6 to 8 p.m.. Funeral services will be held at Fieldstone Presbyterian Church in Mooresville, N.C., on Tuesday, May 10, 2022, at 11 a.m. Burial will follow the service at Glenwood Memorial Park.
In lieu of flowers, memorial donations may be made to the memorial funds at Fieldstone Presbyterian Church.
Cavin-Cook Funeral Home & Crematory, Mooresville, is serving the family. Condolences may be made to the family at www.cavin-cook.com.