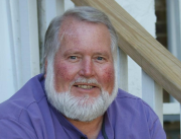 Kenneth Austin Ward, 75, of Statesville, N.C., passed away Saturday, April 2, 2022. He was a devoted father, husband, pawpaw, great pawpaw, and friend.
Ken was born September 8, 1946, in Harmony, N.C., and was the son of the late Clarence Ward Sr. and Ada Feimster Ward. Kenneth worked in Salisbury at Hoechst Celanese until retirement in 2001. He was a member of New Hope Baptist Church on Old Mocksville Road where he was a faithful member for many years. He loved sports of all sorts and staying active with yard work and socializing at Walmart. Kenneth played softball at New Salem Methodist Church for many years and was an avid BBQ master. He loved grilling out and having family gatherings. He was known for walking into a room and yelling "Hey ya'll."
Kenneth is survived by his wife of 20 years, Judy; along with two sons, Travis Ward (Jennifer Wright) of Harmony and Phillip Ward (Jennifer) of Harmony; three daughters, Phoebe Welch (Justin) of Statesville, Beth Hager (Randy) of Statesville, and Cindy Wise (Rob) of Texas. Also surviving are his 10 grandchildren, three great grandchildren, one brother, Clarence "Pete" Ward Jr. (Kat) of Statesville and two nieces Laura Ballard (Tony) and Allison Bullock. He loved all his family, which included many dogs just like his current Maggie.
In addition to his parents, he was preceded in death by his two sisters, Margie Rogers and Cathy Ward.
A memorial service of Kenneth's life will be held from 2:30 to 3 p.m. with a visitation from 1 to 2:30 p.m. on Saturday, April 9, 2022, at New Hope Baptist Church with Rev. Ervel Jones and Rev. Terry Myers officiating.
The family would like to give a special thanks to the Hospice staff and caregivers for their love and support. Memorials can be made to the Gordon Hospice House and the American Diabetes Association. Online condolences can be made to the family at www.troutmanfuneralhome.com.
Troutman Funeral Home is serving the family.