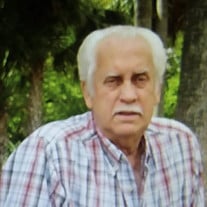 Kenneth Hurst Sherrill, 82, of Mooresville, N.C., passed away on Tuesday, January 18, 2022, at his residence. He was born on February 11, 1939, in Statesville, N.C., to the late Dorman and Marie Holder Sherrill.
Mr. Sherrill was a great carpenter and was dedicated to his work; people loved working for him. He was loyal, a good man, and a perfectionist. He loved his children, grandchildren, and great grandchildren, and enjoyed spending time with them.
He is survived by his wife of 64 years, Betty Lou Sherrill of Mooresville; daughters, Sharon Campbell (Matthew) of Florida, and Tammy Chadbourne (Ron) of Mooresville; son, Timothy Sherrill (Cathy) of Mooresville; grandchildren, Jeremy Campbell (Iris) of Florida, Emily Campbell of Florida, Vanessa Allen (Antoinne) of Mooresville, Bradley Campbell (Breanna) of Georgia, Nathan Chadbourne (Alex) of Charlotte, Taylor Sherrill of London, Josh Sherrill (Emily) of Wilmington, and Madison Sherrill of Charlotte; great grandchildren, Trenton and Brooklyn McWilliams, Jaxon, Isabella, and Sophia Campbell, Ava Allen, and Charlotte and Amelia Chadbourne.
A graveside service will be held at 3 p.m. on Monday, January 24, at Oakwood Cemetery in Statesville.
Cavin-Cook Funeral Home, Mooresville, is serving the Sherrill family. Condolences may be made to the family at www.cavin-cook.com.