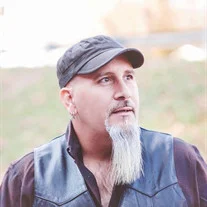 Larry "Sonny" "Buzz" George Shaver Jr., 50, of Mooresville, N.C., passed away on Sunday, November 27, 2022, in his home.
He was born on June 28, 1972 in Pitt, Pa., to the late Larry G. Shaver Sr. and Diana Lee Deer Shaver.
Larry was a longtime resident of Iredell County and was a welder. He loved working on his Jeep YJ and riding motorcycles. He was a family man and enjoyed spending time with them.
He is survived by his wife of 29 years, Angela Elliott Shaver; children, Jerry Shaver, Brittany Shaver and fiancé Fred Wright, and Kristin Shaver; grandsons, Jeremy Bollinger Jr. and Conner Bollinger; sister, Suzanne Gatton; and two nieces and three nephews.
A Memorial service will be held at 6 p.m. on Thursday, December 8, at the chapel of Cavin-Cook Funeral Home with Rev. Timothy Ingram officiating. The family will receive friends following the service.
Cavin-Cook Funeral Home & Crematory, Mooresville, is serving the Shaver family. Condolences may be made to the family at www.cavin-cook.com.