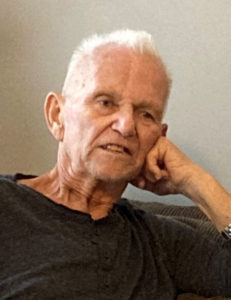 Laurence "Larry" Rasmussen, 81, of Statesville, N.C., passed away on Friday, August 12, 2022, at Gordon Hospice House after a brief but serious illness.
Larry was born on February 4, 1941, in Brooklyn, N.Y. He relocated to Florida in 1986 and to North Carolina in 2007, where his son Steven and daughter-in-law Shari gave him the beautiful opportunity to care for Ann, who had become ill.
He was the son of the late Laurence Joseph Rasmussen Sr. and Rose Astrello Rasmussen. He attended St. Therese Catholic Church and later St. Philip the Apostles Catholic Church while living in Statesville, where he and his wife served as Eucharistic Ministers. Mr. Rasmussen was a retired letter carrier for USPS. He was recently presented with his 60-year pin from the National Association of Letter Carriers and was a Veteran of the U.S. Army. Larry was a devoted and loving husband to Ann. He gave of himself selflessly to his five children and their spouses. The memories he gave his grandchildren will comfort them and put a smile on their faces in the days and years ahead.
In addition to his parents, Larry was preceded in death by his wife, Ann Rasmussen; and two brothers, Edward and Michael.
Those left to cherish his memory include his fiancee, Linda Kay Wingler; five children, Christine Hillick (Terry), Laurennce "L.J" Rasmussen (Cris), Michael Rasmussen (AnnaLisa), John Rasmussen (Tammie), and Steven Rasmussen (Shari); three siblings, Elizabeth "Betty Ann" Suffel, Connie Trusnovec (Michael), and Ronnie Rasmussen (Brigitte), and sister-in-law, Laura Rasmussen. Also, surviving are his ten grandchildren, Erica Marchetti (Steven), Olivia Gustafson (Nicholas), Michael (Elizabeth), Stephanie, Laurence "L.J" (Leslie), Taylor, Danielle (Alex), Matthew, and Anthony. He is also survived by his three great-grandchildren: Owen, Amelia, and Giuliana.
If you couldn't find Larry at the beach or on the dance floor, he could be found volunteering at one of several charitable organizations such as The Lamb Foundation, My sister's House Ministries, or Habitat for Humanity.
Larry lived a full and active life. He loved unconditionally, and he always put his family and loved ones first.
A visitation will be held Tuesday, August 16, at Troutman Funeral Home from 2 to 5 p.m. and 6 to 9 p.m. Funeral mass will be conducted at 11 a.m. Wednesday, August 17, at St. Therese Catholic Church with Father Mark officiating.
Memorials may be made to Gordon Hospice House, 2341 Simonton Road, Statesville, NC 28625 or the Lamb Foundation of NC, Inc. at 6420-A1 Rea Road 312, Charlotte, NC 28277.
Troutman Funeral Home is serving the family.