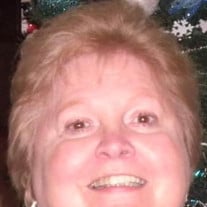 Linda Eichhorn of Mooresville, N.C., peacefully entered eternal life with Jesus on Wednesday, January 5, 2022, at her home.
Linda was born on August 11, 1949, to Ernest and Dorothy Peeler. Dorothy was challenged in Linda's early life losing two sons and husband while living in Covington, Tenn. Linda and her younger brother Joseph were raised in Hamtramck, Michigan.
Linda married the love of her life, Charles Eichhorn, in 1966 and had two children, Karen and Michael. They raised their children in Macomb County, Mich. In 1995 Linda suffered a stroke that left her quadriplegic. Her husband Charles retired early to care for her and the two of them lived with the foundation of faith and love. They were blessed with three grandchildren, Kaylynn, Michael, and Erika.
Together in Mooresville as a family Linda enjoyed the time with her grandchildren and daughter-in-law Angela Eichhorn especially. She had a committed caregiver, Annabelle, for the last seven years who she loved as family. Her favorite times were regular visits with her grandchildren and time with family.
Linda would enjoy meeting new people and traveling around Mooresville with husband Charles. She touched and inspired so many people wherever they went. Although she carried great pain and burden, Linda always had a smile for everyone she encountered. This example of courage and overcoming adversity will continue to serve all those who had the opportunity to have known Linda.
Linda followed husband Charles, who passed December 18, 2021 into the kingdom of heaven. Today she dances with him once again. The two were inseparable and truly were a great example of unconditional love.
Cavin-Cook Funeral Home, Mooresville, is serving the Baker family. Condolences may be made to the family at www.cavin-cook.com.