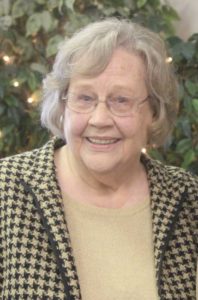 Our dear and loving wife and mother, Liza Daniels McLelland, 93, of Statesville, N.C., passed away Thursday, May 19, 2022, after a short hospitalization and one day at the Gordon Hospice House in Statesville.
Liza was born in Randleman, N.C., on November 24, 1928, to Talmage Monterville Daniel, bricklayer and stone mason, and Flora Marley Daniel, housewife and mother, both of Randolph County. The youngest of 12 siblings, she was preceded in death by her parents, three sisters, and eight brothers.
Surviving are Liza's husband of 56 years, Delton "Jack" McLelland, whom she married on November 24, 1965, at Mount Tabor Methodist Church in Winston-Salem, N.C. Also surviving are her two children, Ann Needham, of Pfafftown and Statesville, her daughter from a previous marriage to William Riley "Bill" Needham (deceased), and daughter Lori McLelland of Greenville, N.C. She leaves behind many beloved nieces, nephews, in-laws, and decades-old friendships.
Liza attended Randleman High School, where she played basketball, serving as a team captain. After graduating she played on company sponsored community basketball teams in and around Greensboro. She worked as accounting support in Sears, Roebuck & Co. Distribution offices in Greensboro, later working in Winston-Salem at their store office. After Sears, she worked in the accounting department and as a secretary at Quality Oil Company in Winston-Salem, where she met Jack. When the family moved with Jack's work to Williamston, in eastern N.C, Liza worked as bookkeeper for Harris and Lilley Fertilizer Co., from which she retired.
Liza worked from her high school years until retirement age, except during the first five years of each daughter's life. She showed unselfish dedication to her husband and daughters. Jack appreciated Liza's support of him and his work, as well as her positive outlook and attitude. Liza often provided a listening ear and caring heart, as a result of her faith in Christ Jesus.
The family expresses their gratitude to the medical personnel who treated and cared for Liza during her illnesses, including those at Piedmont HealthCare offices in Statesville, Iredell Memorial Hospital and Gordon Hospice House. They also appreciate the thoughts and prayers of family and friends.
A celebration of Liza's life will be held graveside on Saturday, June 4, 2022, at 1 p.m. at Mountain View United Methodist Church Cemetery, 438 Mountain View Road, Statesville, N.C. Visitation will follow from 1:30 to 3 p.m. in the church fellowship hall.
Memorials may be made to a hospice facility or another charity of your choice.
Fond memories and expressions of sympathy may be shared at www.bunchjohnsonfuneralhome.com for the McLelland family.
Bunch-Johnson is honored to be serving the McLelland family.