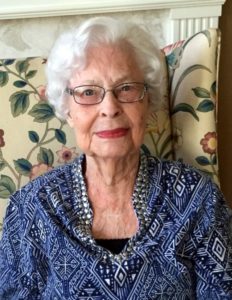 Lois Evelyn Morrison Beaver, 95, of Cleveland, N.C., passed away peacefully on March 2, 2022. The sixth child and youngest of the late Walter Lee and Carrie Isabelle Sharpe Morrison, Lois was born on September 25, 1926.
She was employed by Mooresville Mills, later known as Burlington Industries, and Lowrance Hospital. She later volunteered as a Pink Lady at Iredell Memorial Hospital and also volunteered at the Senior Center in Cleveland. She enjoyed traveling and ballroom dancing with friends.
She was preceded in death by her husband of 50 years, Dewitt R. Beaver Sr.; son, Dewitt Rankin Beaver Jr.; one brother, Carl Morrison; and sisters, Kathryn Rubin, Willie Barnes, Ruth Tarlton and Helen Lindsay.
She is survived by her four children, Brenda Johnson (Bob), Janice Estes (Jeff), Lauri Tallmon (Robert) and Wesley M. Beaver. Also surviving are her grandchildren and great-grandchildren.
A Graveside Service will be held on Saturday, March 5, 2022, at 11 a.m. at Amity Lutheran Church in Cleveland with a visitation to follow.
Memorials may be made to Amity Lutheran Church, 1367 Ostwalt Amity Road, Cleveland, NC 27013 or to the charity of your choice.
Bunch-Johnson Funeral Home is honored to be entrusted with the care of Mrs. Beaver and her family.