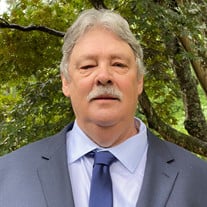 Loren Max Chapman Jr., 63, of Mooresville, N.C., passed away on Friday, February 4, 2022. He was born on December 17, 1958, in Lafayette, Tenn., to the late Loren Max and Ruth Jones Chapman.
Max was employed with General/Continental Tire for 22 years and recently with FXI. He was a member of the Rowan County Wildlife Association in Salisbury. He enjoyed being a member of the Single Action Shooting Society, part of the Old North State Posse. His shooting alias was Joe Danby.
In addition to his parents, he was preceded in death by his brother, Thomas Chapman.
Max is survived by his devoted wife of 41 years and love of his life, Denise Paige Chapman; children, Summer Chapman and Steven Chapman (Reiko); sister, Sharon Chapman; brother, Paul Chapman (Gail); sister-in-law, Susan Chapman; grandchildren, Chase, Seth, and Irelynn; many nieces and nephews; and his beloved dogs, Tank and Gage.
Family will receive at the residence Wednesday, February 9, 2022, from 4 to 6 p.m. at 1035 S. Magnolia Street, Mooresville, NC 28115.
In lieu of flowers, memorials can be sent to St. Jude Children's Research Hospital, 501 St. Jude Place, Memphis, TN 38105 (stjude.org) or Beth Israel Worship Center, 11 Railroad Ave, Wayne, NJ 07470 (bethisraelworshipcenter.org).
Cavin-Cook Funeral Home & Crematory, Mooresville, is serving the Chapman family. Condolences may be made to the family at www.cavin-cook.com.