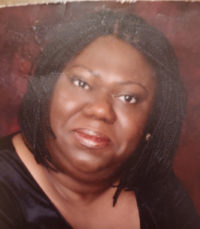 Ms. Lorie Bailey-Ojo, affectionately known as "Tutti," was a loving mother, sister, and friend. She transitioned to her eternal home at Mercy Hospital in Baltimore, Md., on Tuesday, June 14, 2022. She was born in Queens, N.Y., on March 7, 1955. At the age of 12, she moved from Statesville, N.C., to Baltimore, Md., and attended Eastern High All-Girls School before continuing her education at Morgan State University, where she earned a Bachelor of Science Degree. Lorie was the first African-American hostess at the Sheraton Hotel in Baltimore, Md., in1 970. She retired from the State of Maryland as an Income Maintenance Specialist. Lorie was a devoted member of Pilgram Temple Church.
Lorie was blessed with two beautiful children, her daughter, Teronne Catrice (Clarence) Traynham, and her son, Bayode' Olumuyiwa Ojo, both of Baltimore, Md. In addition to her late parents, David L. Gibbs Sr. and Edna Berlene Gibbs, and brother, David L. Gibbs Jr,, she leaves to cherish her memories a sister, Gilda LeTichia Gibbs; brother, Reginald Allen Gibbs; sister-in-law, Harriett Gibbs; a nephew, Terrell Harvey; great niece, Jazelle Harvey; god daughter, Shawn Jones; and special family friends, Micheal Bayo Ojo of Baltimore and Franklin McCraw of Savannah, Ga. She had three aunts, Catherine (Eric) Patterson of Statesville, N.C., Marva Bailey of Kingsport, Tenn., and Rosa Bailey of Mooresville, N.C. Lorie had a host of cousins, other relatives, church family, neighbors, and friends.
Words cannot express the deep relationship between Reginald and his sister. Lorie adored her younger brother and was very protective of him. Friends who were more like family were Denise Mahdi, Dawn Smith, Mary Price, Lori Knight, Millie Hansley Fields, Octavia Shearin and Diane Mills. Cherished conversations were shared often with Van Lackey, Toadie Lackey and Mary" Puddin" Holt. She enjoyed a special bond with Cathy Patterson-Vazquez and Karen E. Patterson, whom she considered sisters as well as cousins. She was a strong woman who faced every challenge in her life with courage, dignity, and resilience. She was a source of inspiration to us all and she will be deeply missed by everyone whose lives she touched. Being a woman of strong faith, she instilled in us the importance of family, hard work and doing what is right. It went without saying, Tutti's family was arguably her most prized possession. Large home-cooked meals and family gatherings were a display of her love. She was a true role model working with special needs children spreading her love and affection. Lorie was the founder of two social media platforms COUSIN 2 COUSIN and My COUSIN & ME, of which she was quite proud of and always stated with affection, Lackey Love.
A voice we loved is stilled. A place is vacant in our home, Which never can be filled. Our love for you continues.
Rutledge and Bigham Funeral Home is serving the family.