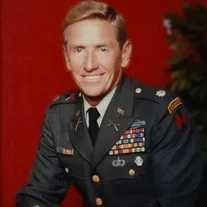 On August 13, 2022, Lt. Col. Emil "Butch" Roper left this world to commence his next grand adventure. He was surrounded by his family and passed away after a short stay in the hospital. As always, Butch was a bit impatient, and took this step sooner than his family had hoped.
Born in Hobbs, N.M., in 1935 to Tom and Ruth Roper, Butch spent his early childhood learning to be independent by roaming the Louisiana Coast with little parental oversight. His family then moved to Santa Monica, Calif., where he graduated from high school and UCLA. In those years, Butch, his brother Dix, and sister Carol spent as much time as possible on the beach. This was where he met his first wife, Linda. They were married in 1962 and had two sons.
Butch was deployed twice to Vietnam and received the Purple Heart after being injured during a fire-fight. Despite these trials, he returned to the states with the same energy and enthusiasm with which he left. During his 30-year career in the Army, he became a Ranger, was in the Special Forces, and was a Company Commander. He was a true Patriot who didn't always agree with day-to-day politics, but thought the principles this country stood for were worth fighting and dying for.
Due in part to the challenges of military life, he was divorced soon after the Vietnam War ended, thus beginning his role as a single father of two teenage sons. Not only was he able to guide two sons through high school (barely), but he was also able to find and marry his true love, Ruth. Together, they ushered another son through high school.
Beyond work and taking care of his family, Butch spent much of his free time confined within the four walls of a handball court or in the vastness of the ocean spearfishing. In both arenas, there were few that were better. He competed at the national level in handball and speared huge wahoo and yellowtail off the coast of Mexico and Panama. It is an understatement to say he was a force of nature. Few people who met him will forget him. His prescription for most maladies in life was exercise. "How many push-ups can you do" was a question his sons and grandchildren were consistently asked.
Following the death of his mother and father in Roseburg, he and his wife returned to live in Douglas County. They spent 20 years living along Little River, in Glide, and in Roseburg. Regardless of where he was, a near daily pilgrimage was made to the YMCA to improve his handball skills. Butch and Ruth hosted several family reunions at their home along the North Umpqua River. These events always included discharging firearms, launching bottle rockets, catching crawdads, rafting, and barbeques.
While getting him to spend money could be herculean task, he was generous with his time and love. He mentored many young men towards a greater confidence in themselves and a career in the military. His faith grew with age as he came to better understand the value of truth of Christ's teaching in his and other's lives.
Butch left behind his wife (Ruth), sister (Carol/Al), three sons (Brett/Jordy, Kirk/Leah, Chris/Miyoko), four grandsons (Hunter, Kellen, Heath, Kai), a granddaughter (Kyra) and a list of friends that stretched from coast to coast. He will no longer be able to lead us on adventures; which we will sorely miss. His family is sure that instead of marking his passing with flowers, he would prefer that you undertake a challenging trip or helpful task while holding him in your heart. For those of you reading this who never met him, we wish you had because your life would've been better for it.
Butch's life will be celebrated on September 17 in Roseburg, Oregon, at 2 p.m. at Wellspring Bible Fellowship. For a quick review of his life, search "Lt Colonel Butch Roper" on Google for the posted video.
Cavin-Cook Funeral Home & Crematory, Mooresville, is serving the family. Condolences may be made to the family at www.cavin-cook.com.