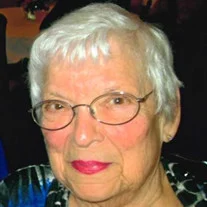 Our beautiful Mother, Lucille Beaucoudray Ferrell, passed away peacefully at 96½ years of age on Tuesday, March 29, 2022, after a brief illness. Our sincere thanks to her Primary Care Doctor, David Christopherson, and all the nursing staff and Doctors of Atrium Health Hospital in Concord, N.C., for their compassion and care as she transitioned into the hands of Jesus. They were amazing!
She was born in New Orleans, La., on September 21, 1925, to parents Fernand and Laurentine Hyver Beaucoudray. She was one of five children, Harold, Fernand, and Raymond (all of whom have passed) and her sister, Lourianne Steilberg of Pearl River, La.
She fell in love with Richard Wakefield Ferrell on Ponchartrain Beach, with a bag of popcorn in her hand, after WWII. They married and moved to Charlotte, N.C., to start their family.
She had three children, Wade Ferrell, Renee Hedrick and Merle Myers; five grandchildren, Lisa Ferrell, Tracy Ballard, Shannon Campagna, Monica Shelton and Michael Myers; eleven great grandchildren, Leigh, Amber, Forrest, Kyndal, Bailey, Sydney, Daniel, Lincoln, Lyric, Legend and Lennox; and one great great grandchild, Emmy.
Mother lost her husband Richard on March 21, 1981, son Richard Wade Ferrell on August 10, 2021, and his Daughter, Lisa Michelle Ferrell in June of 1998. There are too many other relatives to list. But they all await her presence in Heaven.
Mother loved each and every member of our family. Lucille worked her entire life providing for her family. She loved traveling and made many trips with friends and family over the years. She was an avid gardener! Roses were her passion! She worked tirelessly in her yard until her late 80s and would have always been "Yard of the Month." She loved cooking for the family and made every event special with her many talents. We will surely miss her Cajun specialties!
Lucille was the matriarch of our family and taught us all so many lessons of life, always with a big smile on her face. Mother will be so missed by all of us left behind. She is now dancing in Heaven with the love of her life, Richard, whom she has missed dearly for 41 years.
Lucille also loved all of her Grand-Dogs, with Lexi and Sasha Star being her constant companions over the past years. They gave her so much joy and company. She was never alone!
Service is being held at Cavin Cook Funeral Home, 494 East Plaza Drive, Mooresville, NC 28115.
Visitation is scheduled for 10 a.m. on Saturday, April 2, 2022, with a Service at 11 a.m. Following the service Interment will be at the family plot at Asbury United Methodist Church, Huntersville, N.C.
Memorials may be made in her memory to: Humane Society of Concord, 2010 Wilshire Court, Concord, NC 28025.
Cavin-Cook Funeral Home is serving the family.