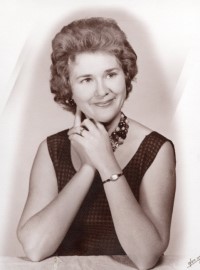 Lula "Lou" Belle Bagwell Hager was born July 24, 1930, and passed away on Monday, January 10, 2022.
Lou was a good and faithful daughter, wife, mother, and grandmother. She is known for her teaching service in Wayne County and Statesville-Iredell County school systems. Lou had a love for music and recognized the importance of teaching it to young children and adults. She was called to the music ministry at several local churches, including Adamsville Baptist Church in Goldsboro, N.C., and later Fairview Baptist Church in Statesville, N.C. Her devotion to church also included teaching adult sunday school classes.
Lou was the sixth of seven children born to Thomas and Grace Spivey Bagwell in Fletcher, N.C. She spent most of her childhood growing up Fairview, N.C. After graduating from Fairview High School, she did her undergraduate studies at Mars Hill College, Brevard College, and later Campbell College, N.C.
On August 24, 1951, Lou married her beloved husband, Eugene B. Hager, at First Baptist Church in Huntersville, N.C. They had three sons, Michael, David, and Mark; and one daughter, Linda. Her late husband was a Baptist pastor and director of Southern Baptist Associational Mission.
She was preceded in death by her husband, Rev. Eugene B. Hager; son David Hager; parents,Thomas and Grace Spivey Bagwell; parents-in-law, Eugene and Hatti Hager; sisters, Eldeva (Norman) Merrill, Lily Mae Bagwell, Ramona (Russell) Mercer, and Bertha Dellinger, brothers; Rev. Jack (Gloria) Bagwell and Dan Bagwell; and brother-in-law, Harry (Ruth) Hager.
Survivors include two sons, Michael Hager and his wife Ann, and Mark Hager and his wife Debbie; one daughter, Mrs. Linda Perez and her husband Richard; grandchildren; Sarah Hagar, Daniel (Heidi) Hager, Laura (Dan) Jackson, Caroline (Mike) CasaSanta, Jennie Rae (Jody) Johnson, and Tara Hager; and seven great grandchildren, Noah, Joel, Levi and Lydia Hager, Thomas and Liz Johnson, and Emma Lou Jackson. Also surviving are a sister-in-law, Mrs. Peggy Eldridge and husband Eddie; one brother-in-law, Jim Dellinger; and many beloved nieces and nephews.
The family expresses our gratitude to God for the life, labor, and love our beloved Mom gave to her family and friends. Our mourning embraces the diligent role she had in our lives, our churches, our schools, and our community.
Funeral services will be Friday, January 14, 2022, at 12 noon at the Eatons Baptist Church of Mocksville, N.C., with Pastor David Gilbreath officiating. The family will receive friends immediately following the service in the fellowship hall of the church. A private burial will follow later in the First Baptist Church of Huntersville Cemetery.
Fond memories and expressions of sympathy may be shared at www.bunchjohnsonfuneralhome.com for the Hager family.
Bunch-Johnson Funeral Home is entrusted with the arrangements.