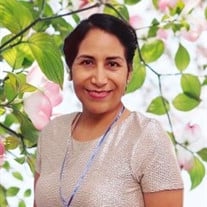 Tonia Trujillo Quintero, 46, of Mooresville, N.C., passed away after a long battle on Friday, September 30, 2022, at her residence. She was born on August 30, 1976 in Mexico, to Maria Pineda Trujillo and the late Ramon Trujillo.
Tonia was employed with Cardinal Glass. She was a member of Sacred Heart Catholic Church in Salisbury.
She is survived by her husband, Manuel Quintero; sons, Jonathan, Andrew, and Ivan Quintero; mother, Maria Trujillo; sisters, Patricia Trujillo (Fernando), Maria Hernandez (Luis), Icela Trujillo, and Dalia Trujillo (Carlos); brothers, Armando Trujillo (Olga) and Jesus Trujillo; and numerous nieces and nephews.
The family will receive friends on Sunday, October 2, from 4 to 6 p.m. at Cavin-Cook Funeral Home. The family will also receive friends on Monday, October 10, from 10 to 11 a.m. with a Funeral Mass following at 11 a.m. at Sacred Heart Catholic Church in Salisbury.
Memorials may be made to Hospice & Palliative Care of Iredell County, 2347 Simonton Road, Statesville, NC 28625.
Cavin-Cook Funeral Home & Crematory, Mooresville, is serving the Quintero family. Condolences may be made to the family at www.cavin-cook.com.