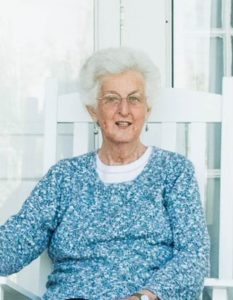 Marie Stevenson Stevenson, 88, of Statesville, N.C., passed away on Tuesday, May 17, 2022, at her home under the care of Hospice & Palliative Care of Iredell County.
Mrs. Stevenson was born in Iredell County, August 5, 1933, the daughter of John Harvey Stevenson Sr. and Sallie Martin Stevenson. Marie graduated from Scotts High School and Mitchell College. She married Charles Stevenson on April 15, 1956, and together they shared 66 years of marriage. Marie was the Financial Officer for Statesville City Schools for 30 years. She was a lifelong member of Concord Presbyterian Church and was the church's first secretary. She served in various capacities within the church, including Sessions Clerk, Sunday School teacher in the Primary area, served on the Bereavement Committee, was an officer in the Presbyterian Women and was awarded an honorary lifetime membership in the organization. Marie was also a member of the Statesville Altrusa Club for 32 years.
Along with her husband, Mrs. Stevenson is survived by her daughters, Gay Boehm (Eric) and Sallie Mullett (Paul); her son, Pastor John Stevenson (Teresa); her grandchildren, Andrew Boehm (Abby), Steven Boehm, Luke Boehm (Giada), Seth Stevenson (Erica), Kristian Stevenson (Hannah), Stephen Mullett (Lauren), Denai Mullet and Lori Mullet. She is further survived by her great-grandchildren, Claire Marie Boehm, Elijah James Boehm, William Thomas Stevenson, Evan Hunter Stevenson, Emily Hope Stevenson, Landon William Mullett, Lucy Elaine Mullett, and Jason Cade Ramos; and her sister, Bonnie Johnson (Bill).
A graveside service for Mrs. Stevenson will be held at 10 a.m. on Saturday, May 21, 2022, at Concord Presbyterian Church with Pastor John Stevenson officiating. The family will visit with friends following the service in the church fellowship hall.
Those wishing to make donations in Mrs. Stevenson's memory are asked to consider Concord Presbyterian Women, 3867 Taylorsville Highway, Statesville, NC 28625; Troutman Baptist Church Playground Fund, 305 Perry Road, Troutman, NC 28166; or Hospice of Iredell County, 2347 Simonton Road, Statesville, NC 28625.
Troutman Funeral Home is serving the family.