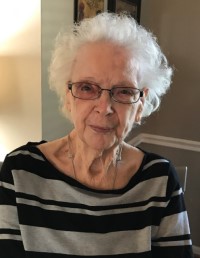 Mary Ann Deadmon Holler, 89, died peacefully on Sunday January 30, 2022, at her home surrounded by her family.
Mary Ann was born in Rowan County, N.C., on July 25, 1932, to parents Marshall Griffin Deadmon and Bertha Sechler Deadmon. On December 23, 1951, she married Bobby Frank Holler. They were married for 25 years before his death on July 14, 1977.
Mary Ann was a stay-at-home mom while her children were small. Later she worked outside the home, ending her career as a nanny. She dearly loved to read Christian novels, her Bible and "devotionals."
In addition to her husband, she was predeceased by an infant daughter, Michelle Denise Holler; and a son, Derick Lynn Holler. She was the baby of the 11 Deadmon Children, and was predeceased by sisters Ila Hampton, Myrtle Potts, Edith Clawson and Lola Beaver; and brothers Ralph Deadmon, John Deadmon, Marshall "Pat" Deadmon, O.C. Deadmon, William "Willie" Deadmon, and Banks Deadmon.
Mary Ann is survived by her daughter, Lisa Holler Warren and her husband Tim; and her granddogs (the children) Maggie and Remi, whom she dearly loved. Before her declining health, she and the granddogs spent many hours "resting" in her recliner. Mary Ann is also survived by her "in-law" family, Sylvia, Sharon, Mark and Patty Warren, who were forever special in her life.
Mary Ann will be laid to rest beside her husband and children. A graveside service will be held on Wednesday February 2, 2022, at 2 p.m. at Carolina Memorial Gardens in Concord, N.C., with Jonathon Sherrill officiating. Pallbearers will be Mark Warren, Carl Bailey, Dale Ladd and Kelvin Locklear. At other times, the family will gather at the home of Tim and Lisa Warren.
Tim and Lisa will be forever grateful for the care Mary Ann received by Cathy Moretz and Patty Warren, Iredell Home Health (Katie, Brittany, Karen, Daren, Heidi and Helen) and Iredell County Hospice and Palliative Care (Susan, Raymona, Tamela, Teresa, Pam, Anita, Rea, and Bonnie).
In lieu of flowers, the family request memorials be made to Hospice and Palliative Care of Iredell County, 2347 Simonton Road, Statesville, NC 28625.
Fond memories and expressions of sympathy may be shared at www.bunchjohnsonfuneralhome.com for the family.
Bunch-Johnson Funeral Home is honored to be serving the family of Mary Ann Holler.