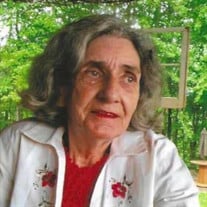 Mary Rebecca Jurney Bell, 82, of North Wilkesboro, N.C., started her journey to Heaven on Wednesday, September 15, 2022. She was born February 10, 1940, in Yadkin County and was the daughter of the late Houston Allison Jurney and Winnie Jane Hoots Jurney.
Mary attended Yadkin County Schools and was married on May 2, 1956, at Pinecastle Air Force Base Chapel to the love of her life, Kyle Odean Bell Sr. They had been married for 50 years before he joined the Lord in 2006. She was a member of Shady Grove Baptist Church.
Mary wore many hats throughout the years of her life, and she answered to many names. Some called her mom, grandma, The Plant Lady, Miss Mary and a few others. If you knew Mary, then you know that her love language was doing for others. Mainly her love was poured out through her kitchen and the open door to her home. No stranger was turned away and you were always welcome to stay and eat whether you were a first-time visitor, or it was your 100th visit. Love was shown through her cooking, and rarely was her kitchen empty. If she wasn't cooking for her family, then she was cooking for a church event or a family struggling during hard times. Mary owned a greenhouse for years and the community knew where to find The Plant Lady or Greenhouse Lady. Many weekends, she sold her plants or garden vegetables at a local flea market or farmers market. She loved the outdoors, canning, working her garden, flowers, sewing, reading, and helping others. Mary loved and cherished her family and friends.
Mrs. Bell is survived by her four children, Kyle Odean Bell Jr. and wife Brenda, Kim Kilpatrick and husband Michael, Mike Bell and wife Teresa, and Robin Bell; five grandchildren, Tiffany Compton (Chris), David Bell (Stacey), Kyle Bell III (Lindsey), Megan Gregoire, and Maryann Kilpatrick (Travis Vanhoy); and eleven great-grandchildren who brought a sparkle to her eyes anytime, Brodie and AnnaLacie Compton, Levi, Isaac and Nora Bell, Mallory, Hadley and Rhett Bell, Madison and Gabriel Gregoire and Aiden Kilpatrick. The other boys that called her "Grandma" were also near and dear to her heart. She is also survived by a brother, Rondal Jurney and wife Judy, along with a special and dear friend, Hazel Phillips.
In addition to her parents and spouse, she was preceded in death by a sister, Beth Hayes, and brothers, Frances, Roy and Paul Jurney.
The family will receive friends from 3 to 4 p.m. on Monday, September 19, 2022, at Shady Grove Baptist Church. Funeral Services will be held at 4 p.m. at the church with burial following in Shady Grove Baptist Church Cemetery.
Pallbearers will be David Bell, Kyle Bell, III, Chris Compton, Pete Morrison, Matt Davis, Chad Rash, Nick Sipes and Travis Ladd. Honorary Pallbearers will be Travis Vanhoy, Aiden Kilpatrick, Gabriel Gregoire and Brady Compton.
The family asks that memorials be made to Hospice and Palliative Care of Iredell County, 2347 Simonton Road, Statesville, NC, 28625 or to Shady Grove Baptist Church Cemetery Fund, 2781 S. Windy Gap Road, North Wilkesboro, NC, 28659. Online condolences may be made to the family at www.nicholsonfunerals.com.
Nicholson Funeral Home has the honor of serving the family.