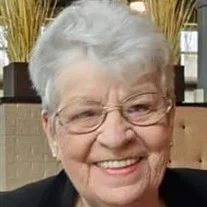 Matilda Reynolds, affectionately known as Tillie, was born in the small town of Mohill, Ireland, in County Leitrim on February 8, 1936. She passed away on May 21, 2022.
She grew up in the country with her siblings and held a job bottling Guinness for the local brewery. At the age of 18, she told her family that she was coming to America and sought sponsorship from her cousin in New York. She took the journey across the pond and never looked back; however, she did visit her growing family regularly over the years.
She met the love of her life, Steve Coyne Jr., at an Irish dance and they married and settled in Plainview, Long Island. She worked for American Airlines in customer service for 10 years and was a stay-at-home mom once her son Stephen was born. Tillie was a wonderful mother and doted on Stephen. In 1990, the family moved to Mooresville, N.C. Tillie made many friends and built lifelong relationships. She enjoyed having lunch at Wendy's with the "lunch bunch" and participating in activities at the Mooresville Citizen Center. She also loved spending time with her grandson, Kieran, every chance she got.
Tillie's favorite pastime was gardening and boy did she have a green thumb. Her yard was always the most gorgeous in the neighborhood and it did not go unrecognized. She was honored with the Town of Mooresville's Garden Club's yard of the month and proudly displayed that sign!
Tillie was preceded in death by her parents, Matilda and Patrick; her brothers Ned, Michael and PJ; and her loving husband Stephen Coyne Jr. She leaves behind her son Stephen, his wife Susan and adored grandson, Kieran; her sister Nancy; and many nieces, nephews and friends. She is so loved and will be missed dearly.
Mass of Christian burial will be held at 11 a.m. on Thursday, May 26, 2022, at St. Therese Catholic Church, Mooresville, with Father Mark Lawlor officiating. Burial will follow the service at Glenwood Memorial Park, Mooresville.
In lieu of flowers, please consider a donation in her honor to Hospice and Palliative Care of Iredell County.