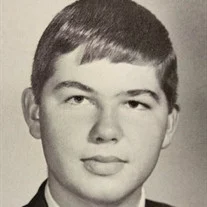 Michael Alexander Shinn, 72, of Mooresville, N.C., died Thursday, August 18, 2022, at Iredell Memorial Hospital. He was born in Mooresville and was the son of the late Glenn C. Shinn Jr. and Montez Mayhew Shinn.
Mike, or Mick as he was sometimes called, graduated from Mooresville High School in 1968 and earned his Bachelor's Degree from Lenoir Rhyne University. He also earned a Master's Degree from the University of North Carolina at Chapel Hill. He taught English at North Iredell High School for a number of years. He returned to Chapel Hill to teach English and later taught at Wingate University and Central Piedmont Community College in Charlotte. Mike was an avid reader, especially of history and political biographies. He loved old movies and 50s-60s TV shows. His knowledge of those movies and TV shows was limitless and thus he was a great Jeopardy and trivia game player.
Mike followed politics very closely and was known as a frequent writer of letters to the editor to get his points of view across. His letters were always well-thought out and extremely accurate regarding the facts of situations he was referring to.
He was the founder of the Iredell County Writers group in which local aspiring authors would meet and critique each other's work. He wrote several plays and short stories.
Mike was an extraordinary individual with a big heart (contributing regularly to the Mooresville Soup Kitchen and supplying bicycles, etc., to families at Christmas). He was a lifelong member of St. James Episcopal Church in Shinnville, and is referred to as a "Patriarch" of the church.
Survivors include a brother, Frank Shinn, of Winston-Salem, as well as a great number of
friends, former classmates, and especially former students. He especially will be missed by the family of Calvin and Lorene Shinn of Shinnville, which includes their children, five grandchildren and 13 great-grandchildren. He was preceded in death by two brothers, Glenn C. Shinn lll and P.G. Shinn.
Services will be held Sunday, August 28, at St. James Episcopal Church, Mooresville. There will be a visitation/remembrance at 2 p.m. followed by a service at 3 p.m.
In lieu of flowers, memorials may be made to St. James Episcopal Church, 851 Shinnville Road, Mooresville, NC, NC 28115.
Cavin-Cook Funeral Home & Crematory, Mooresville, N.C., is serving the Shinn family. Condolences may be made to the family at www.cavin-cook.com.