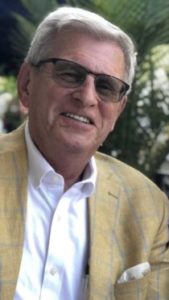 Michael "Mike" C. Danaher passed away on May 1, 2022, at the age of 83, surrounded by his loved ones in Statesville, N.C. Mike was a true family man, always putting others before himself.
Born in Waterford, N.Y., to the late Myrtle Goyer and Thomas P. Danaher Sr., Mike greatly enjoyed time with his family, especially his older brother and cousins. He spent countless summers at his family's camp in Schuylerville on the Hudson River. Mike began his love of cars as a child, and was very proud when he purchased his first new vehicle — a 1956 blue and white Desoto. Mike loved tinkering around with cars and engines of all sorts. He was a talented handyman who could fix almost anything. Mike enjoyed the outdoors and was fond of time spent fishing, hunting and vacationing at the beach. He was an avid reader throughout his life, with a special appreciation of historical nonfiction.
Mike deeply valued education. He attended Wynantskill Grammar School, Troy High School, the N.Y. State Police Academy, and Hudson Valley Community College. Mike was a parishioner at Sacred Heart Catholic Church in Troy, N.Y., for almost 50 years, with great admiration for Father John Yanas and the late Father James Vaughan. Mike served in the National Guard and Army Reserves and was a volunteer with the Wynantskill and Mountainview Fire Departments, and Ronald McDonald House. He was incredibly hardworking and had an expansive career with over 30 years in N.Y. law enforcement, including as a Police Diver, North Greenbush Police Officer, Deputy Sheriff for Rensselaer County, and Senior Investigator for Rensselaer County District Attorney's Office. Following his work in law enforcement, Mike served 31 years with National Grid. Mike stayed active in his retirement, traveling with his wife and spending time with his children, grandchildren, and great-grandchildren. He also looked forward to his weekly Wednesday breakfasts with his brother.
Mike is survived by his treasured wife of 45 years, Lou Ann; and his children, Maureen (Joe) Drumwright, Nanci (Kevin) Moore, Jacqui (Chad) Ford, Mikie Danaher, Danny Danaher, Leo Danaher, Lisa Danaher, Lori (Lou) Cicciari, Linda Slavin and Mickey Danaher, as well as his 16 grandchildren and 11 great-grandchildren. He also leaves behind his brother, Thomas "Junie" P. (Pat) Danaher Jr.; mother-in-law, Nancy Morrissey, brothers-in-law, Joe (Martha) Morrissey, Johnny Morrissey, Bobby (Carey) Morrissey and Jim Morrissey, as well as many nieces, nephews and close friends.
In addition to his parents, Mike was predeceased by his father-in-law, John "Jack" Morrissey; grandson, Justin Martell; sons-in-law, Paul Martell and Rich Slavin; and daughter-in-law, Marianne Danaher.
The family would like to give a special thanks to the exceptional care provided to Mike by his team of doctors. Their deepest thanks to his N.Y. doctors, Dr. John O'Bryan, Dr. Robert Benton, Dr. Joseph Seguel, and Dr. Regina Resta, and his N.C. doctors, Dr. Pam Sholar, Dr. Ahmed Elnaggar, Dr. Steven Landau, Dr. Joseph Moran, Dr. Naim Bouhussein, Dr. Mahdi Ajjan and Dr. Obioma Anukwuem. In addition, thanks to Kathy Lail, Director of Critical Care, and the entire Iredell Memorial Hospital staff. Mike's family also remembers the incredible talent and kindness of the Iredell Home Health team, Brian Curvin, Katie Deignan, and Brittany Nations.
A funeral visitation and mass will be held on Friday, May 20, 2022, at St. Gabriel Catholic Church in Charlotte, N.C. Visitation begins at 9:30 a.m. followed by mass at 11 a.m. and burial at Oakwood Cemetery in Statesville, N.C. The funeral mass will be livestreamed.
In lieu of flowers, please consider donations to Ronald McDonald House Charities of the Capital Region (Albany, NY).
Bunch-Johnson is honored to be serving the Danaher family.