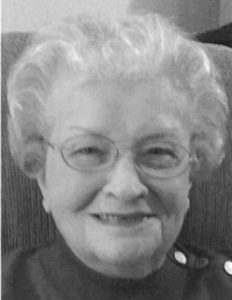 Mildred Irene Hoover Deese, 93, formerly of Statesville, N.C., passed away Sunday, August 7, 2022, at Cross Road Retirement Community in Asheboro, N.C.
Mildred was born August 20, 1928, in Iredell County, N.C., as the daughter of the late William Escar Hoover and Eunice Moose Hoover. She began working for AT&T after graduating from high school and enjoyed a 39-year career with the company working in Statesville, Winston-Salem, Charlotte, Orlando, Fla., and and Jacksonville, Fla. She had a great love for her family, animals and flowers during her retirement years. She was a full member of Holy Trinity Evangelical Lutheran Church in Troutman, N.C.
Mildred is survived by one birth daughter, Cindy Hilliard (Larry) of Asheboro; grandchildren Kacie Bemmels (Wade) of Minnetrista, Minn., and Saegan Hilliard of Charlotte; great grandchildren, Chase and Alexa Bemmels of Minnetrista, Minn.; nephews, Dennis Hoover (Joy) of Statesville, Emmit Robert Burnett Jr. (Judy) of Whitmore, S.C., and David Burnett (Kim) of Burlington, N.J.; nieces, Becky Ladd of Statesville, Loretta B. Conyers (William) of Frederick, Md., Susan Wolcott of Lawrenceville, Ga., and Karen Banizaman (Saeed) of Columbia, S.C.; and numerous great nieces and nephews.
She was preceded in death by her husband, Joe C. Deese Jr.; two sisters, Sadie H. Burnette and Hilda H. Deal; three brothers, Gordon Hoover, Gray Hoover and Coite Hoover; and nephews Gerald Steven Hoover and Tony Hoover (Mary Jane).
Visitation for Mrs. Deese will be at Troutman Funeral Home, 345 Main Street, Troutman, N.C., on Wednesday, August 10, 2022, from 11 a.m. to 1 p.m. with a private family graveside service following at Mt. Herman Lutheran Church Cemetery under the direction of Pastor Dieter Punt of the Holy Trinity Evangelical Lutheran Church.
The family would like to give special thanks to Le Ann Schatz, Heather Jones, and Evelyn Greene and the entire staff of Cross Road Retirement Community for their love and care over the last five-plus years, to Jerry and Jenny Hoover of Statesville for their constant acts of love and ministry, to Nell Wintzer, a steadfast friend of many years, and to Hospice of the Piedmont for their loving care and comfort in her final days.
Memorials may be made to Holy Trinity Evangelical Lutheran Church, 225 Morgan Street, Troutman, North Carolina 28166, to Dream Makers, Cross Road Retirement Community, 1302 Old Cox Road, Asheboro, NC 27205, or to Hospice of the Piedmont, 1801 Westchester Drive, High Point, NC, 27262.
Troutman Funeral Home is serving the family.