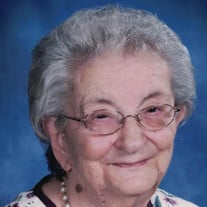 Myrtle Elizabeth Connor Benfield, 96, of Newton, N.C., died Sunday, February 20, 2022, at her home. She was born in Iredell County on October 1, 1925, to the late Nonnie Elizabeth Johnson Connor. She was also preceded in death by her husband, Fred M. Benfield Sr.
Myrtle was a very talented lady. She made beautiful handmade quilts and loved to crochet. She also played the guitar and had a green thumb, growing many plants. Visiting nursing homes and cheering up the residents brought her a great deal of pleasure. More than anything, she loved spending time with her family.
Those left to cherish her memory include two daughters, Wanda Stephens (Tony), and Delena Kay Stevens (Mark); a son, Fred Benfield Jr.; three grandchildren, Ken Vickers (Heather), Bobbie Kay Leviner, and Jason "Mo" Benfield; and one great-grandchild, Drake Davis.
A Graveside Service will be held Saturday, February 26, 2022, at Beulah Baptist Church Cemetery with Pastor Barbara Potter and Ken Vickers officiating. The family will visit with friends at Nicholson Funeral Home from 1 to 2 p.m. pm Saturday before processing to the cemetery.
Nicholson Funeral Home is entrusted with the arrangements.