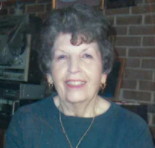 Nealie Irene Hamm Kilpatrick, 89, of Statesville, N.C., passed away peacefully on Saturday, March 5, 2022, at her home. She was born on April 21, 1932, in Iredell County and was the daughter of the late Stanley S. Hamm and Emma L. Burgess Hamm.
Mrs. Kilpatrick attended Iredell County schools and was married to Roy Lee Kilpatrick, who passed away in July 2006. She was employed by Beauty Maid Mills in Statesville and retired after 25 years. Also, she was a homemaker and a dedicated member of Broad Street Church of Christ in Statesville.
In addition to her parents and husband, she was preceded in death by two daughters, Patricia K. Adams and Shelia K. Brown; grandchildren, Anthony Cook and Laura S. Hager; sisters, Geneva Dyson, Fannie Johnson, and Dessie Connolly; and brothers, Johnny Hamm and Richard Hamm.
She is survived by daughter, Leslie K. Wyatt, and sons-in-law, Jody Wyatt, Fletcher Brown, and Earl Adams II; her grandchildren, Adam Brown, Earl Adams III, and Austin and Ashton Wyatt; and six great-grandchildren. She is also survived by her sisters, Evelyn Lunsford and Annie Shepherd; and her brothers, Dwight Hamm and Burgess (Chub) Hamm.
The family will receive friends from 1 to 2 p.m. on Thursday, March 10, 2022, at Broad Street Church of Christ. Funeral Services will be held at 2 p.m. at the church with David Wood officiating. Burial will follow the services ion Oakwood Cemetery.
Online condolences may be made to the family at www.nicholsonfunerals.com.
Nicholson Funeral Home has the honor of serving the family.