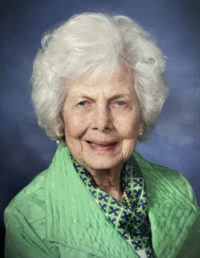 Early Saturday morning, August 27, 2022, Nelle Morrow Borden peacefully passed away surrounded by her daughter and granddaughters. Nelle lived an incredibly full life of 104 years. In 1918 she was born at the family farmhouse in Statesville, N..C; and she was the eleventh born of thirteen children.
Following her high school graduation, she moved to Washington, D.C., and met the love of her life, John. They moved to Key West, Fla., and began their life of 52 years together. Nelle was a homemaker and cared for their daughter, Saundra. She loved to bake, and her specialties were carrot cake, pound cake, and chocolate chip cookies. Nelle and John moved to Miami in 1947 and continued to live there until 1985. After a 27-year career at Burdines, Nelle retired in 1978. Nelle and John were very active in the lives of their granddaughters, Erin and Shannon. They loved to take road trips often visiting family in North Caerolina or enjoying their mountain home. Nelle lovingly cared for John until he was called home in 1992. In 2001, she moved to Melbourne to be closer to her daughter and granddaughters. Her greatest joy was her family, and she spent the last 30 years loving and caring for them. She was thrilled to welcome her first angel baby (great-granddaughter) in 2015, then another in 2018, and finally an "angel baby boy" in 2021. Nelle loved with her whole being, and she taught her family to do the same.
She was preceded in death by her husband of 52 years, John Borden. She was also preceded by her parents, Tipton and Mattie Morrow, along with her four brothers, Floyd Morrow, Jay Morrow, Gordon "Bill" Morrow, and Eccles "Eck" Morrow; and eight sisters, Hattie Roseman, Ezzie Ostwalt, Voda Ostwalt, Alta Little, Mae Loftin, Alta Little, Pearl Rayle, Geraldyne Burnette, and Thelma Bridges.
She leaves behind her daughter, Saundra Nehrbas; her granddaughters and grandson-in-laws, Shannon Pitts (William), and Erin Calloway (Jeremy), and her angel babies (great-grandchildren), Olivia Calloway, Caroline Calloway, and Beau Calloway.
A visitation will be held Tuesday, September 6, at Bethlehem United Methodist Church from 2 to 3 p.m. Service will take place at 3 p.m. with Rev. Olin Isenhour conducting, burial will follow in the church cemetery.
In lieu of flowers, donations may be made to Suntree UMC Flower Ministry (7400 N. Wickham Road, Melbourne, FL 32940) or Bethlehem UMC Good Samaritan Fund (607 Bethlehem Road. Statesville, NC 28677). Online condolences may be made to the Borden family at www.troutmanfuneralhome.com.
Davis Seawinds of Melbourne, Fla., and Troutman Funeral Home of Troutman, N.C., are serving the family.