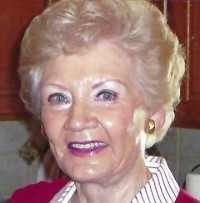 Mrs. Nellie "Nell" Peacock Barnhardt of Statesville, N.C., passed away peacefully in her home on April 25, 2022, following a lengthy illness. She was 86 years old.
Born on January 5, 1936, she was the third of seven children of Lonnie and Maggie Peacock. Hard work was instilled at an early age where everyone had daily chores on "The Peacock Farm," along with the seasonal work of planting, growing and picking cotton. Mrs. Barnhardt graduated from Cool Springs High School in 1954.
A native and lifelong resident of Iredell County, Nellie Peacock married James Franklin Barnhardt in 1956.
After marriage, the couple always called Statesville home, and established a church family lasting for over fifty years at Diamond Hill Baptist Church. In a small house on Baker Street, they started their family in 1958.
After Mr. Barnhardt's death, she never remarried, calling her marriage "one of a kind." She remained dedicated to her church until declining health prevented her from attending services.
Mrs. Barnhardt worked in the office at Beauty Maid Mills and retired from Intercraft Industries after many years of dedicated service in the accounting department. To all who knew her, she leaves a legacy of friendships and unparalleled hard work. A talented seamstress, her daughters remember fondly wearing new outfits to church on Sunday mornings made the night before.
Mrs. Barnhardt loved a good joke and enjoyed a keen wit all of her life. She was a master of home-cooked food, growing most of the vegetables in her garden. One of her great joys was to prepare meals for her family during the holidays. She loved sharing her canned green beans and pickles. For all of her accomplishments, she may have been best known for her famous sourdough bread. She was known to carry freshly baked bread hot from the oven to friends, as well as to dental and doctor visits.
Our mother and grandmother will always be remembered affectionately as a woman made of mental toughness and steel reserve.
Mrs. Barnhardt is survived by two sisters, Doris Bowles (Gilbert) of Statesville and Barbara Dodson (Jerry) of Greensboro; her daughter, Anita Barnhardt of Statesville; her beloved grandson, Andrew Barnhardt of Statesville; and daughter, Vicki Conner (Richard) of Greensboro.
Special appreciation is given to Anita and Andrew for the care they provided over the last decade, allowing Mrs. Barnhardt to live her life in the comfort of her home. The family would also like to offer gratitude for the Hospice and Palliative Care team, Shauna, Crystal, Claudia, Bonnie and Leandra.
Visitation will be held on Friday, April 29, 2022, from 12 to 2 p.m. at Bunch-Johnson Funeral Home, 705 Davie Avenue, Statesville, followed by a funeral service in the chapel at 2 p.m. Burial will be held at Society Baptist Church, 879 Garden Valley Road, Statesville, following the service. In lieu of flowers, donations can be made to Hospice and Palliative Care of Statesville, 2347 Simonton Road, Statesville.
Bunch-Johnson is honored to be serving the Barnhardt family. Fond memories and expressions of sympathy may be shared at www.bunchjohnsonfuneralhome.com for the Barnhardt family.