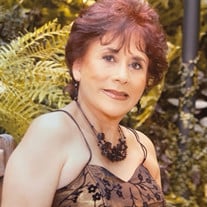 Olfa "Margot" Sanchez, 81, of Mooresville, N.C., and formerly of Boca Raton, Fla., peacefully went to be with God on Valentine's Day, Monday, February 14, 2022, at home surrounded by her loving family. She was born December 1, 1940, in El Callao, Venezuela, daughter of Angel Virgilio Sanchez and Julia Rita Hernandez.
Margot was a Child and Adolescent Psychiatrist. She practiced in Venezuela from 1981 through 2001. She also owned and operated a Bed & Breakfast, "La Casona de Margot," in Merida, Venezuela, from 1995 through 2018. She always made sure every guest felt welcomed and at home. She dedicated her life to helping others, sharing her love of family, friends, cooking, music, the ocean, animals, such as her loyal companion, "Bella" and, most of all, her country of birth, Venezuela.
Margot was a bright light in this world and will be greatly missed by those who loved her. She touched the lives of many family members and friends. She is survived by her daughter, Olga Monroy and husband Paul Monroy of Mooresville, N.C.; her son, Antonio Perera and his wife Yamaliz Manrique of Merida, Venezuela; her grandchildren, Audrey Perera, Codi Monroy, Andrea Perera, Sofia Perera, Isabella Monroy, Trina Perera, Luis Mercado, Isabella Mercado, and Antonio Perera Jr.; and a host of sisters, nieces, nephews, and friends.
A Celebration of Life service will be held on Sunday, March 6, 2022, at 5 p.m. at Cavin-Cook Funeral Home & Crematory with the Father Mark Lawlor officiating.
The Celebration of Life service will be livestreamed. For those who are unable to attend the service, you may go to the following link for the live stream https://view.oneroomstreaming.com/authorise.php?k=1645759580169138
Her family would like to extend their most sincere appreciation to all the Novant Health doctors who treated her, all the hospice nurses, physicians and staff, her beloved church and friends for all the prayers and unwavering compassionate care provided. Your kindness will never be forgotten.
In lieu of flowers, memorial donations may be made to the Novant Health Presbyterian Medical Center Foundation, https://supportnovanthealth.org/, The American Cancer Society, https://www.cancer.org/ or St. Therese Catholic Church of Mooresville, N.C., https://www.sainttherese.net/.
Cavin-Cook Funeral Home & Crematory, Mooresville, is serving the Monroy and Perera Sanchez families. Condolences may be made to the family at www.cavin-cook.com.