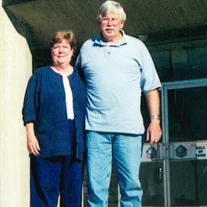 Pam Beaver, daughter of Grant William Bolmer and Dorothy Wrenn Bolmer Richards, died on September 14, 2022. Pam was born in Louisburg, N.C., on November 11, 1943.
From the age of four, Pam lived in Mooresville, N.C., where her father was a lawyer and judge. Pam had wonderful memories and lifelong friends from Park View Elementary, Mooresville Junior High and Mooresville High School. After high school, Pam graduated from Catawba College and began teaching English at South Rowan High School. While working as a teacher and guidance counselor at South, Pam finished a master's degree at UNC-Charlotte. After she became Director of Programs for Exceptional Children for the Rowan County Schools in 1979, she earned a Doctorate in Education from UNC-Greensboro. For over thirty years, "Doc" also worked as Assistant Principal at West Rowan High School, EC Director and Curriculum Specialist for the Mooresville Graded School District.
Pam was first married to Allen Robertson, who died at age 21. She was then married to Richard (Rudy) Beaver for 54 years. Loved ones who preceded Pam in death were Richard Gray Beaver, Grant William Bolmer, Dorothy Wrenn Bolmer Richards, Barbara Bolmer Whitener and Allen Delane Robertson Sr.
Surviving loved ones are children, Allen Delane Robertson (Sharon), Rodney Carl Beaver, and Annie Wrenn Heglar (Dwayne); brother, Grant William (Bill) Bolmer and family; grandchildren, Teshia Robertson Vickery, James Garrett Robertson (Megan), Jeffrey Tyler Robertson (Jessica), Nolan Grant Beaver, Anne Leigh Beaver, Madison Grace Beaver, Donald Nicholas Gray Heglar (Joanna) and Mackenzie Wrenn Heglar (Dylan); great grandchildren, Riley Brooke Vickery, Harrison Grant Vickery, Zander James Robertson, Tucker Ward Robertson, Lyza Meg Robertson, Nash Lane Robertson and Josie Taylor Heglar. Special others are Christian Whitener and family (Scott, Heather, Roberto, Megan, Joe Anna and Brian), Thad (Carol) Linker, Sharon Linker Clanton and Chuck Linker.
A memorial service will be held at 4 p.m. Friday, September 16, 2022, at Prospect Presbyterian Church, Mooresville, with Rev. Will Gipe officiating. The family will receive friends immediately following in the Family Life Center at the church.
Memorials may be made to Prospect Presbyterian Church, 9492 W NC 152 Hwy, Mooresville, NC 28115.
Cavin-Cook Funeral Home, Mooresville, is serving the family of Mrs. Beaver. Condolences may be made to the family at www.cavin-cook.com.