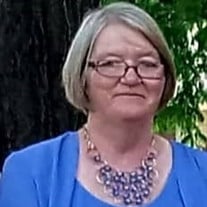 Patricia Ellen "Pat" Brown, 65, of Statesville, N.C., and formerly of Goshen, N.Y., peacefully went to be with her Lord and Savior on Friday, January 7, 2022 surrounded by her loving family. She was born September 25, 1956, in Goshen, N.Y., daughter of the late Donald and Gertrude Black.
In addition to her parents, she was preceded in death by her father, Murray McNamara; mother, Irene Caffery; brother, Murray McNamara; brother, Richard McNamara; and sister, Nancy McNamara
Outgoing by nature, Patricia never met a stranger. She relished time spent entertaining family and friends with her stories. Pat sure did love to talk and make everyone laugh and smile. Born and raised in Goshen, N.Y., Pat was raised by her loving foster parents Donald and Gertrude Black. They molded her into the loving, caring, compassionate woman we've all grown to love.
Pat also enjoyed reading, shopping, listening to oldies, visiting the library, playing board games with her grandchildren and she loved sitting outside enjoying the beautiful weather.
A vast appreciation for her animals, Lilo, Scarlet and Bear, they were like her children. There was never a minute that went by that she wasn't thinking about them. Pat also had a sensitive side for all the stray cats that came to her house; she always made sure they had food, water and shelter. Pat was an angel that protected God's animals. Pat truly had a heart of gold and as much as her family will miss her the animals will mourn her loss just as much. There was never a day that went by that she wouldn't be without her grandchildren; they were her world. Patricia and Charles were blessed with 45 years of marriage, sometimes they got on each other's nerves, but at the end of the day they were the true epitome of soulmates.
Most important to her was her family and she will forever be remembered as a loving and devoted wife, mother, grandmother, great-grandmother, sister, aunt and friend.
She leaves a lasting legacy to be cherished by her survivors, her husband of 45 years, Charles Leroy Brown of Statesville, N.C.; daughter and son-in-law, Beth Lyn VanDuzer and Raymond Arthur VanDuzer II of Statesville; son, Donald John Brown of Statesville; son, Brian Edward Brown and wife Gina Brown of Spencer; step-son, Charles Leroy Brown Jr. of Statesville; step-son, Thomas Brown of Newburgh N.Y.; brother, David McNamara of New York; granddaughter, Kalia Brown; granddaughter, Kalyn VanDuzer; granddaughter, Layla VanDuzer; grandson, Raymond Vanduzer III; grandson, Michael Brown; great-granddaughter, Alaya Brown; niece, Christine Brown of Statesville step-daughter, Jacqueline Reilly of Mooresville, N.C.; and several nieces, nephews and cousins of New York; and her beloved dogs, Lilo and Scarlet.
A visitation will be held on Saturday, January 15, 2022, from 2 to 4 p.m. at Cavin-Cook Funeral Home & Crematory. A Celebration of Life service will follow at 4 p.m. in the chapel.
The family would like to extend their sincere appreciation to all the nurses, physicians, her beloved family and friends for their unwavering compassionate and supportive care that was provided. Your kindness will never be forgotten.
In lieu of flowers, memorial donations may be made to The Brown Family.
Cavin-Cook Funeral Home & Crematory, Mooresville, is serving the family. Condolences may be made to the family at www.cavin-cook.com.