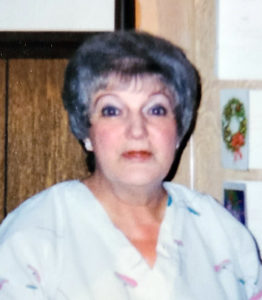 Pauline Viola Lambert Allen, age 84, of Harmony, N.C., passed away on Saturday, April 23, 2022, at Gordon Hospice House in Statesville, N.C.
Pauline was born on June 4, 1937, in Iredell County, N.C. She was the daughter of the late David Lambert and Eva Mae Dishman Lambert. In addition to her parents, she was preceded in death by her loving husband, John Paul Allen; a brother and five sisters. Pauline chose a career in healthcare. She became a CNA and spent her life in the service of others.
Pauline, or "Meme" to those who knew her best, leaves behind a son, Paul Allen of Harmony; a sister, Elizabeth Stewart of Troutman, N.C.; and grandchildren, Amy Trent (Manley), Sabrina Gibson (Shawn), Jonathan Allen (Bria), and Sam Meadows. Her great grandchildren include Brianna Beam, Candace Trent, Trinity Beam, Kendra Trent, Brendalyn Allen and Viola Allen. Also, several nieces, nephews, and cousins will miss Pauline as well.
On Friday, April 29, a visitation for Pauline will be held from 12 to 8 p.m. at Reavis Funeral Home of Statesville. On Saturday, April 30, a funeral service will take place, beginning at 10 a.m. at Harmony Baptist Church. Pauline will be laid to rest in Harmony Cemetery.
The Family would like to thank the staff at Gordon Hospice House in Statesville for the outstanding care and support they gave Meme and our family during our stay.
Reavis Funeral Home of Statesville is honored to serve the family.