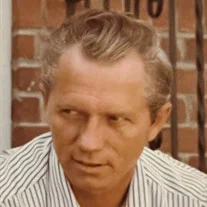 Mr. Peter David McCabe, son of the late Edward McCabe and Alice LaBonte was born on July 24, 1935, in Manhattan, N.Y. Though he attended public schools in both New York and Michigan, he ultimately was a graduate of the School of Hard Knocks. As a young man, Peter served his country honorably as Airman Third Class in the United States Air Force. Peter also served his entire life as a practicing Catholic, attending weekly mass at St. Therese in Mooresville, N.C., until his passing.
On August 20, 1966 he was united in holy matrimony with the love of his life, Teresa Bridget Comer. This union blessed them with 54 years of love and four beloved children. Teresa preceded him in death on January 9, 2020 but remained forever in his heart.
Despite humble beginnings, Peter was a true Renaissance man and was the living embodiment of the saying "never met a stranger" as he always had the perfect joke at the ready for old friends and new friends alike. He was an active member of several local bridge clubs and as an avid golfer, enjoyed various courses in the Lake Norman area. He culminated his golf career with a hole-in-one on July 22, 2019. He was an accomplished author–writing a bridge tutorial in the 1980s, self-publishing a joke book in 2017 and was crafting his third book–his memoir–up until his death. Rounding out his hobbies, Peter also enjoyed painting in his sunroom, playing bocce ball with local friends, cheering on his beloved Detroit Lions and Detroit Tigers and spending time with his family-his biggest joy. Whether it was a simple laugh, captivating story, helping hand when needed or through his unconditional love, Peter's light and influence will forever remain in those who knew him.
Peter peacefully departed this life on September 29, 2022, at Levine Dickson Hospice House in Huntersville, N.C.
In addition to his wife Teresa, he was also preceded in death by his son, David Peter, and four siblings, Robert McCabe, Jack McCabe, Charles McCabe, and Jane (McCabe) Evers.
Peter's vibrant and colorful life will continue to be honored and cherished by his remaining children–Paul Edward McCabe of Mooresville, N.C., Mark Martin McCabe of Statesville, N.C., and daughter Christina McCabe Adams and son-in-law Kirk Adams of Huntersville, N.C., as well as eight grandchildren, Ryan McCabe, Kaitlyn McCabe, Ashley McCabe, Jamie McCabe, Sarah McCabe, Rachel McCabe, Alexandra Adams, and Cara Adams. Peter also leaves behind numerous nieces, nephews, neighbors, and friends.
A memorial service will be held for Peter on October 8, 2022, at 9:30 a.m. at Cavin Cook Funeral Home in Mooresville. In lieu of flowers or gifts, Peter's family requests that anyone wishing to honor his memory consider a donation to Levine & Dickson Hospice House, 11900 Vanstory Drive, Huntersville, NC 28078, where Peter received outstanding care in his last days.
Cavin-Cook Funeral Home and Crematory, Mooresville, is serving the family. Condolences may be made to the family at www.cavin-cook.com.