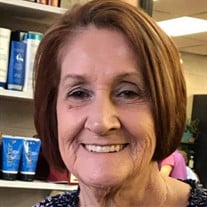 Rebecca Pritchard, 72, of Statesville, N.C., died Saturday, March 26, 2022, at the Carolina Caring Hospice House in Newton, N.C. She was born in Union County, N.C., on July 7, 1949, to the late John Pritchard and Eloise Driggers Aldridge. She was also preceded in death by a sister, Virginia Odom.
Rebecca was retired from Walmart, where she worked for many years as a cashier. She enjoyed working there as she never met a stranger and loved people. She loved driving and going places. She also enjoyed shopping and going to the beach. More than anything, she loved spending time with her family.
Those left to cherish her memory include a son, James Michael Phillips (Kathryn); a daughter, Angela Long; three grandchildren, Brandi Taylor, Kristen Long, and Rebecca Downum, nine great-grandchildren, Adrian Allison, Ethan Knepp, Savannah Stanley, Leah Taylor, Maci Taylor, Catherine Downum, Hannah Downum, James Long, and Liam Long; and a brother, Sam Pritchard (Wanda).
A Memorial Service will be held Sunday, April 3, 2022, at 4 p.m. at the Salvation Army, 620 Bringle Ferry Road, Salisbury, NC 28144.
Memorials may be made to Carolina Caring Hospice House, 3975 Robinson Road, Bldg. 3, Suite A, Newton, NC 28658.
Nicholson Funeral Home is serving the Pritchard family.