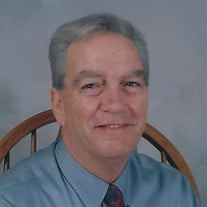 Rev. Claude "Leroy" England, 76, of Statesville, N.C., died Wednesday, January 19, 2022, at his home. Born in McDowell County, W.Va., he was a son of the late Joseph Hurdle England and Eva Burks England.
Rev. England was a Baptist Minister having served Northview Freewill Baptist Church for 19 and a half hears and Calvary Baptist Church for two years. He founded Gateway Baptist Church and served there for a year. He attended Celeste Henkel School and Mitchell Community College. He also served as a moderator for the Foothills Freewill Baptist Association and the Piedmont Freewill Baptist Association.
He was an accomplished bluegrass gospel singer and played guitar. He was also a collector of classic cars, loved going to car shows and his favorite Bible verse was Daniel 2:28: "There is a God in heaven." After retirement he attended Cochran Street Baptist Church, Gloryland Baptist Church and Beulah Baptist Church, where he served in the Senior Ministry and Senior Groups.
In addition to his parents, he was preceded in death by brothers, Harold, Charles and Joe England, and sisters, Rose Weed, Patricia Shoemaker, and Betty Bowling.
Survivors include his wife, the former Martha Upright, whom he married in 1965; a son, Rodney Dale England (Sherry); a daughter, Rhonda Blackmon (Eric); brothers, Randolph England (Lavonne) and Larry England (Libby); and sisters, Shirley McCall (Neal) and Brenda Dishman. Also surviving are four grandchildren, Faith Elizabeth England, MacKenzie Glen England, Anna-Grave Marie England and Stephen Braxton Blackmon.
Memorial services are scheduled for 3 p.m. Sunday, January 23, 2022, at Beulah Baptist Church with Rev. Brian Burgess officiating. The family will greet friends following the service.
Condolences may be sent online to the family to www.nicholsonfunrals.com. Memorials may be made to the Beulah Baptist Church Senior Group, 1851 Old Mountain Road, Statesville, NC 28677.
Nicholson Funeral Home is entrusted with the arrangements.