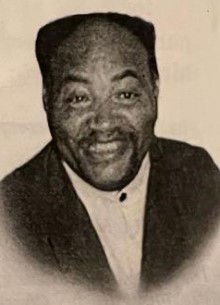 Reverend Luther Presley Gamble, 76, was born in Iredell County, N.C., on August 1, 1945, and was the son of the late John Ivery Gamble, and Clara Jane Ramsey Gamble. He departed this life on Tuesday, March 15, 2022, at MapleLeaf HealthCare in Statesville, N.C. In addition to his parents, he was preceded in death by two brothers, John Ivory Gamble and Kay Francis Gamble; two sisters, Robena Gamble Rucker and Virginia Dare Gamble; two brothers-in-law, Richard Mills and Milas Allen Gamble; four nephews, Brian Gamble, John Gamble, Thommy Gamble, and Darrell Feimster.
He was a 1962 graduate of Unity High School, and he was employed with RHA Group Home, Brian Center, and Statesville Flour Mill. He loved Western movies, and loved to make people laugh, was a friend to many, always sweet, and a jokester to the core. Luther grew up in the Shinnsville community and at an earlier age he joined the Shinnsville United Church of Christ Church, where he was a member of the Men's Choir and Inspirational Choir. He played softball and loved to sing. He was a member of The Soul Stirrers Gospel Group. Later in life, Luther started his own church, along with his family, called the New Parrot Home in Troutman, N.C., for many years. In December of 1985, Luther started another church called The Community Mission Baptist Church of Marion in Marion, N.C., and after 35 years of service to the community, and his church, he was honored with a proclamation from the mayor of Marion, Steve Little. Luther will truly be missed.
He leaves to cherish the memories of his life a son, Lawrence Clarke, of Troutman, N.C.; three daughters, Toni Morrison of Statesville, Jotasha (David) Jones of Kennesaw, Ga., and Melissa (Rinaldo) Oakley, of Sneeds Fairy, N.C.; one sister, Rachel Gamble of Statesville; one stepdaughter, Jackie Kennedy Gamble of Mooresville, N.C.; four sisters-n-law, Agnes Gamble of Mooresville, N.C., Shirley (Harry) Dalton, Carolyn (Thomas) Reid and Vickie Mills; nephews, Anthony Bellamy, Christopher Gamble, Darryl Gamble, and Shawn Gamble; nieces, Joan Enis, Betty Stewart, Edna Rucker, Elna Rucker, Vernel Wadell, Rubynell Holt, Sandra Morrison, Myra Henry, Jewel Adams, Lisa Gamble, Sheryl Woodard, and Kimberly Rann; thirteen grandchildren, Arianna Jones, Rachael Jones, Gabriel Jones, Meyonna Clarke of Miami Florida, Kamryn Morrison, Karson Morrison, Oraishi (Dalton) Oneal, Sydhayia Oakley, Rinaldo Oakley Jr., Elijah Gamble, Garrcte Ferrell, and Quanda Sharpe; six great-grandchildren, Raelyn and Braxton, Riley Ferrell, Garrett Noel Farrell, Chandon Smith, Star Smith, and Quariq Bruner: a host of other nephews, nieces, cousins, other family and friends.
A Celebration of Life service will be held on Sunday, March 20, 2022, at Living Waters Ministries, Troutman, N.C., at 2 p.m. Visitation will be held from 1 to 2 p.m. Burial will follow in Belmont Cemetery, Statesville, N.C.
Visit the book of memories for Luther Presley Gamble at www.rutledgeandbigham.com.
Rutledge and Bigham Funeral Home is serving the Gamble family.